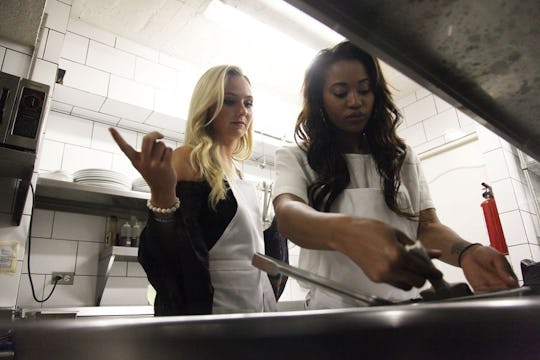 ABC/Eniac Martinez
Jubilee's Instagram Shows Off The 'Bachelor' Contestant's Many Amazing Sides
On episode four of The Bachelor, Jubilee impressed fans by playing the cello, causing people on Twitter to wonder whether she should just have her own show already. The gorgeous war vet has Bach fans captivated, because as Ben said in a previous episode, she has so many "layers." But what does Jubliee's Instagram reveal about the 25-year-old? Pretty much that she can kick ass in military gear and slay it poolside in a coral bikini.
This is one of the biggest reasons fans love the contestant so much: She makes it hard to easily define her as one thing or another, proving just how complicated, and yes, "layered" women are. So keep doing what you're doing Jubilee, and show America that women can have beauty, brains, and brawn.
All of this is further proven by stalking Jubliee's Instagram feed (hey, guys, it's my job, okay?). I've come to the conclusion that this woman is having the best year ever, regardless of whether she left The Bachelor with a ring. (Her social media account paints an ambiguous picture — just the other day, Jubilee posted a photo of a tropical island... A snap from a Higgins' honeymoon, perhaps? Footage from Bachelor in Paradise? A solo vacay? The mystery continues.) From giving the perfect pout to posting about squad goals and inspirational memes, these seven photos from Jubilee's Instagram feed prove that the gal has life hacks on just about everything.
She Loves Her Mom
After suffering a traumatic childhood, Jubilee was adopted when she was 6-years-old, and was given a new life. The caption from this Instagram pic lovingly reads, "Awwww my mama always sends me the cutest little things.😍 I love you to the moon and back too." Adorable.
She Keeps Her Brows & Lips On Fleek
From hours of personal experience, I can attest that strong lip and brow game is essential for looking smoking in a selfie. Jubilee shows you how it's really done in this pic with a perfectly applied and on-trend dark lip paired with a clean, arched brow.
She Bravely Served Her Country
This picture shows Jubilee with her "squad", right after she completed the difficult leadership courses that allowed the war veteran to be sent to Afghanistan to fight for the United States.
She Can Be Silly
As this pic shows, Jubilee has a silly side, dressing up like a teacher's pet for Halloween one year. It's cute and quirky, which makes me love it all the more.
She's Body Positive
Beneath those fatigues is one hot bod. Showing it off in a coral bikini, Jubliee sends a message of body positivity and that strong women are sexy.
She Loves To Be Inspired
Giving props again to her mom, Jubilee wrote in the caption of this Insta-post,
[My mother] has always been able to see beyond skin, ethnicity and class. She is also the most gracious person I know, and as I told her, something I am working every day to be better at. Happy MLK day everyone!
Of course, both Jubilee's mom and Martin Luther King, Jr. are excellent role models. Nice choices, Jubilee!
She Endorses Reading
What reality TV star would tell fans to read more? Jubilee, that's who. Writing in the caption that she's "always loved reading", the Bachelor contestant proved that it's easy to improve your mind and have fun at the same time.
Jubilee's Instagram is proof that this woman is winning at everything. So whether or not she gets the final rose, I have a feeling Jubilee's going to be just fine.