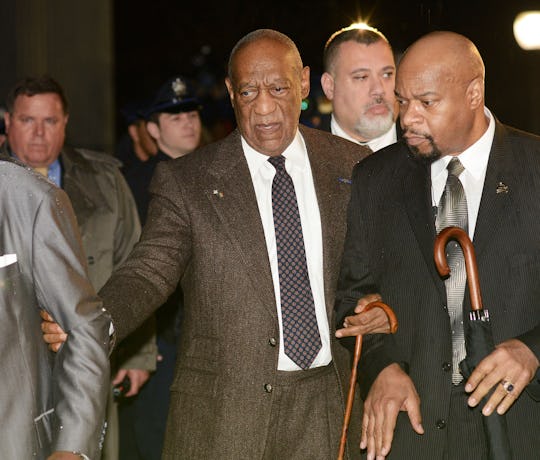 William Thomas Cain/Getty Images News
Judge Denies Bill Cosby's Request To Throw Out Sexual Assault Case
The name Bill Cosby was once synonymous with wholesomeness, family values, and ugly sweaters, but these days, the 78-year-old comedian isn't known for the characters he played or the jokes he once told: He is known for the slew of sexual assault charges he now faces. And while more than 50 women have accused Cosby of sexual misconduct, Cosby only faces one criminal charge — the second-degree felony, aggravated indecent assault, of Andrea Constand. Well, sort of. Earlier this week, Cosby and his legal team attempted to have that charge dropped. However, on Wednesday, a judge denied Cosby's request to drop the sexual assault case, and a preliminary hearing remains scheduled for March 8.
Cosby's representatives Christopher Tayback and Monique Pressley did not immediately respond to Romper's request for comment. In a statement given to Us Weekly, Pressley called the charge against Cosby "unjustified:"
The charge by the Montgomery County District Attorney's office came as no surprise...[f]iled 12 years after the alleged incident and coming on the heels of a hotly contested election for this county's DA during which this case was made the focal point. Make no mistake, we intend to mount a vigorous defense against this unjustified charge and we expect that Mr. Cosby will be exonerated by a court of law.
According to Cosby's lawyers, it all comes back to a civil case and an alleged promise by former Montgomery County District Attorney Bruce Castor. Cosby originally faced sexual assault charges from Constand in 2005, but since there was "insufficient credible and admissible evidence," the charges were dropped, and Castor stated he would not prosecute the entertainer, according to Entertainment Tonight.
As such, when Cosby and Constand settled in civil court the following year, Cosby testified "freely" because, as Cosby's lawyers tell it, Castor assured Cosby that he would not be prosecuted in the Constand case. (The testimony he gave during that trial resulted in the deposition, released late last year, in which Cosby admitted to getting Quaaludes to use on "young women that [he] wanted to have sex with," according to CNN.) Cosby's lawyers said in the new case this week that Cosby never would have testified in Constand's civil case had they known criminal charges were still possible, according to Think Progress.
Though the district attorney at the time declined to file charges, the new, incoming Montgomery County District Attorney Kevin Steele, who used the issue to drive a wedge between himself and former district attorney Castor, said he would seek justice and an arrest warrant was filed for Cosby last month, according to NBC News:
Upon examination of all of the evidence, today we are able to seek justice on behalf of Mr. Cosby's victim.
If it is determined that prosecutors have enough evidence to put Cosby on trial, he could face anywhere from five to 10 years in prison.