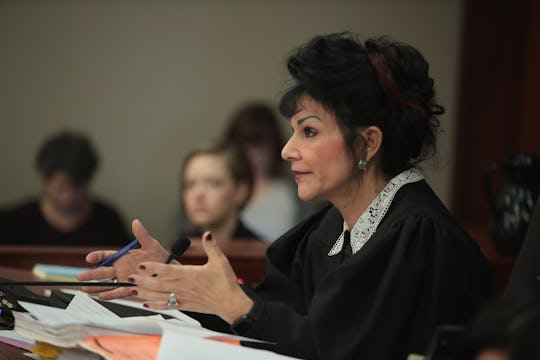 Scott Olson/Getty Images News/Getty Images
Judge Rosemarie Aquilina's 9 Most Powerful Quotes From The Larry Nassar Case
On Wednesday, after days of testimony from over 150 women, former USA Gymnastics doctor Larry Nassar was reportedly sentenced to 175 years in prison. Over the past weeks, the high-profile court case took over headlines thanks to the voices of the many brave girls and women who came forward with their stories — but on Wednesday, a new voice was applauded alongside theirs. Indeed, Judge Rosemarie Aquilina's most powerful quotes from the Nassar case are now being shared online for their strength and staunch defense of Nassar's victims.
For nearly a week, Judge Aquilina stepped aside and let the young women, who alleged Nassar had assaulted them, do the talking. The world got to hear over 150 victim statements, which ranged from the heart-wrenching to the inordinately powerful — including, according to The Guardian, Kyle Stephens' now-famous line:
Perhaps you have figured it out by now, but little girls don't stay little for ever. They grow into strong women that destroy your world.
While Aquilina's decision to give Nassar's victims sufficient space to speak for themselves was an impactful statement on its own, the Michigan state judge had plenty to add during the trial and when she handed down Nassar's sentence. Here's just a few of her strongest quotes.
1. She Refused To Be Blamed For Nassar's Circumstances
In a letter to Judge Aquilina, Nassar accused her of creating a "four-day media circus" by letting the multitude of women accusing him of assault speak publicly, according to The Detroit News. But Aquilina was quick to correct Nassar and place the blame squarely back where it belonged, saying:
I didn't orchestrate this. You did, by your actions.
(Did anyone else have flashbacks to Taylor Swift's response in her own sexual assault trial? "I am not going to allow your client to make me feel like it is any way my fault, because it isn't," she said about the man's dismissal from his job, according to Slate. "I am being blamed for the unfortunate events of his life that are a product of his decisions and not mine.")
2. She Made Sure Nassar Knew His Ordeal Was Trivial Compared To The Harm He Caused
When Nassar wrote to Aquilina saying that it would be too difficult for him to endure several days of victim impact statements, Aquilina responded, according to Glamour:
Spending four or five days listening to them is minor, considering the hours of pleasure you've had at their expense, ruining their lives…. You may find it harsh that you are here listening, but nothing is as harsh as what your victims endured for thousands of hours at your hands.
3. She Let Women Know They Were Heard
As young women shared their stories, Aquilina made it clear that she believed them. "You have an Olympian voice," Aquilina told Olympic gymnast Jordyn Wieber, according to The Independent. She continued:
People will listen to you. I've listened to you. You are really very strong, not just as an athlete, but as a woman, as a survivor. I know you'll get past this because of that strength, because you had the strength to come here and talk. It's really important.
4. She Thanked Them For Coming Forward
To Rachael Denhollander, the first woman to come forward with her story against Nassar, Aquilina said, according to Newsweek:
You started the tidal wave. You made all of this happen. You made all of these voices matter. ... You are the bravest person I have ever had in my courtroom.
5. She Encouraged Survivors To Move Forward
To one gymnast, Aquilina said, according to The Independent: "Leave your pain here, and go out and do your magnificent things."
Later, Aquilina encouraged Amanda Cormier to find her voice in her writing once again, according to The Independent, telling her:
It seems to me, after this, you can finish writing. You found your voice. It's a strong, effective, brave voice, and you have a child coming. Maybe what you need to do is start and finish a lullaby.
6. She Held Others Accountable, Too
"Inaction is inaction. Silence is indifference," Aquilina said as she sentenced Nassar, according to HuffPost. She continued:
There has to be a massive investigation as to why there was inaction. Why there was silence. Justice requires more than what I can do on this bench.
Nassar may have been the individual on trial, but Aquilina didn't let the quiet complicity of those in power go unmentioned.
7. She Encouraged Everyone To Change The Future For Other Survivors
Aquilina clearly knew just how important this case was in changing the overall conversation around assault. "One in 10 children will be sexually abused by their 18th birthday," Aquilina said, according to NBC News. She continued:
One in seven girls, one in 25 boys by their 18th birthday. That means that in the United States, I'm not talking about any other country, 400,000 babies born in the U.S. will become victims of child sexual abuse. It stops now. Speak out like these survivors, become part of the army.
8. She Made It Clear Where She Stood
While sentencing Nassar, Aquilina touched on rehabilitation and the fact that Nassar could have sought treatment or therapy for his desires — yet didn't.
"I want you to know that as much as it was my honor and privilege to hear the sister survivors, it is my honor and privilege to sentence you because, Sir, you do not deserve to walk outside of a prison ever again," Aquilina told Nassar, according to HuffPost. "You have done nothing to control those urges, and anywhere you walk, destruction will occur to those most vulnerable."
9. She Realized The Importance Of The Case
"I hope I opened some doors, but you see, I'm a little stupid because I thought everybody did what I did and if they didn't, maybe they ought to," Aquilina said at the sentencing, according to NBC News. To the media, she added:
And I do believe in the 1st Amendment, so thank you all for being here because it's an important story for the survivors.
Nassar's case has already become one of the most widely reported sexual assault cases to make headlines since the #MeToo movement began, and Aquilina's statements were the perfect way to remind the world that times are changing — and encourage other survivors to speak up. Aquilina 2020, anyone?