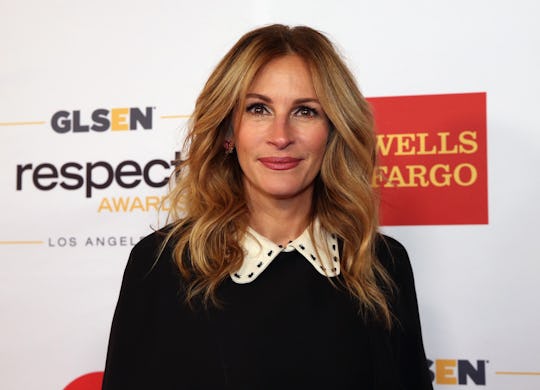 Jonathan Leibson/Getty Images Entertainment/Getty Images
Julia Roberts' Age Doesn't Make Her Less Beautiful
It's that time again, folks; time for People to name the "50 Most Beautiful People In The World." And now that a few hours have passed, it's also time for the internet to throw a collective hissy fit about the magazine's choices. Normally, this doesn't bother me. But this year... this year, the ageism is out of control. Because as People's choice for the cover of this year's issue, Julia Roberts' age does not make her any less beautiful. And we really, really need to stop this nonsense.
This year marks Oscar-winner Roberts' record fifth time on the cover of People's 50 Most Beautiful issue. She won for the first time as a 23-year-old relative newcomer to Hollywood in 1991, a year after her star-making roles in Steel Magnolias and Pretty Woman. Roberts is a 49-year-old mom of 12-year-old twins Hazel and Phinnaeus and 9-year-old son Henry. She's been married to cinematographer Danny Moder for 14 years. And here's the thing; she looks great. Beautiful, sure, (I mean that smile, come on) but also like a genuinely happy camper who has created a good life for herself. What's more beautiful than that, I ask you? Well, if some social media users are to be believed, Roberts just can't be considered beautiful. Because she's old.
Other Twitter users expressed their disapproval of Roberts being crowned "most beautiful" for a wealth of different reasons; some would have preferred to see a woman of color on the cover, while others just didn't think she was all that good looking.
Fine, no problem. But to disqualify her because of her age (particularly when much older men like George Clooney have twice graced the cover of People as Sexiest Man Alive with nary an eyelash being batted) is beyond the pale. And it's this kind of dismissive justification — this insidious presumption that only women of a certain age can appreciate other women of a certain age — that really gets my goat.
In a 2015 interview with W Magazine, Oscar-winner Charlize Theron had this to say about ageism in Hollywood (and beyond):
Women, in our society, are compartmentalized so that we start to feel like we're cut flowers and after a while we will wilt.
This Twitter reaction to Roberts being considered beautiful at the ripe old age of 49 years old really speaks to that, in my opinion. The idea that we are all meant to be decorative and ornamental, but only for a while. Only for as long as men might find us attractive. And then.... we wilt.
Except no. No we don't. I think, in 2017, women finally get to say they feel beautiful forever. Or not feel beautiful, just feel, and live and do and be. Nobody gets our permission any longer to define who we think we are. Least of all some frightened trolls on Twitter.