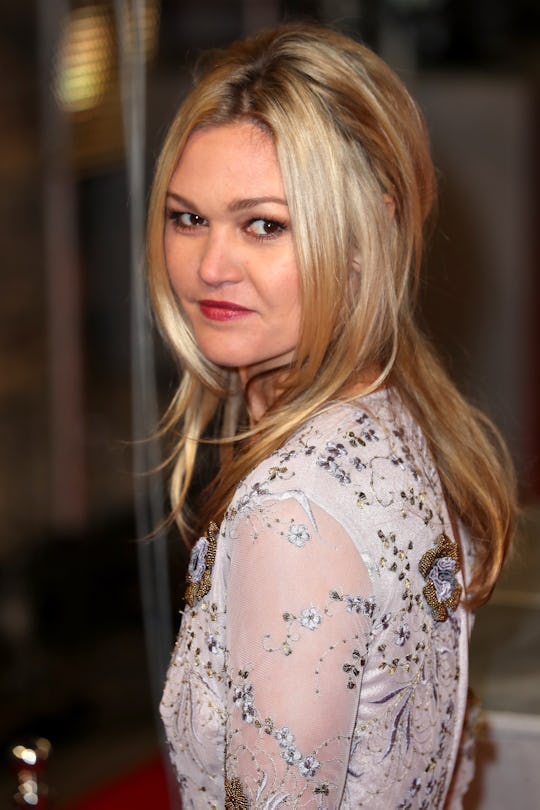 Chris Jackson/Getty Images Entertainment/Getty Images
Julia Stiles Welcomes Her First Child & The Announcement Couldn't Be Sweeter
The stream of recent Hollywood baby news just got even more exciting. On Tuesday, Julia Stiles revealed that she gave birth to her first child on Oct. 20, and her announcement is too cute for words. In the sweet Instagram post, Stiles revealed the baby's gender and the little one's moniker. Get ready for a truckload of adorableness, people.
Ever since Stiles announced she and her husband, Preston J. Cook, were expecting their first child, fans have been anxiously awaiting the baby's arrival. For the most part, Stiles stayed mum on her thrilling news with the exception of a *beautiful* bump pic she posted to Instagram on Sept. 26. Stiles is a pretty low-key celebrity, so it's not too shocking that she opted to keep her pregnancy on the DL. Plus, Stiles totally has the right to divulge whatever information she chooses.
Luckily for fans, however, Stiles ultimately decided to provide details about the baby's birth on Instagram. I'm to happy to reveal that Stiles is now the proud mom of a baby boy named Strummer Newcomb Cook, according to People. Stiles paired the exciting news with a sweet photo of her holding Strummer's tiny hand.
The caption of Stile's post reads, according to Instagram:
Strummer Newcomb Cook, born October 20, 2017. Thanks and ever thanks to the extraordinary Doctors, Nurses and staff at Mount Sinai for helping bring this utter joy into our lives. ❤️✨ 'Hello, World!'
Ugh, does it get any more cute than this? Although you can't see much of Strummer, it's clear by this photo that he's super adorable. Stiles and Cook must be over the moon right about now.
As for the name Strummer, it's totally unique and it seems to perfectly fit Stiles' laid-back vibe. It also looks like the name Strummer peaked in 2010, according to Baby Center, and that it's not a very common moniker. Props to Stiles on coming up with a truly distinct name — picking a baby name can be really tough.
Following Stiles' announcement, many of her fans took to the post's comments section to congratulate her on the news. One fan said, "My baby was born on the same day. :) Congratulations!." Another wrote, "Many congratulations to you and your family! What a wonderful thing to have the love of two people become one whole little human!"
Yep, it's safe to say Stiles is feeling the love tonight.
And by the looks of it, Stiles has been on the receiving end of a lot love these past few months. On Sept. 26, Stiles revealed that she and Cook got hitched on a beach in what she described as a "shotgun wedding," according to Today.
Stiles and Cook officially announced their engagement in January 2016. The two first met while working on the 2015 movie, Go With Me, according to ET Online. Although the two aren't very showy with their relationship (some people prefer to keep things private), it's obvious they really care for one another. One can imagine that Cook and Stiles are going to be great parents to little Strummer.
Oh, and if you're wondering whether Stiles will head back to work right away now that Strummer is here, the answer is probably no. Stiles said of returning to acting post-pregnancy, according to Now To Love:
... I've heard from some mums that they were excited to go back to work, but then felt the complete opposite. I don't think I'll be that way. I feel like being a new mum is a challenge in and of itself, and it might be hard for me to navigate and just take care of my kid.
Fortunately for Stiles, she has the financial option to stay home with Strummer during this special time, and I have no doubt Stiles is going to soak up every precious second with her new son.
Check out Romper's new video series, Romper's Doula Diaries:
Watch full episodes of Romper's Doula Diaries on Facebook Watch.