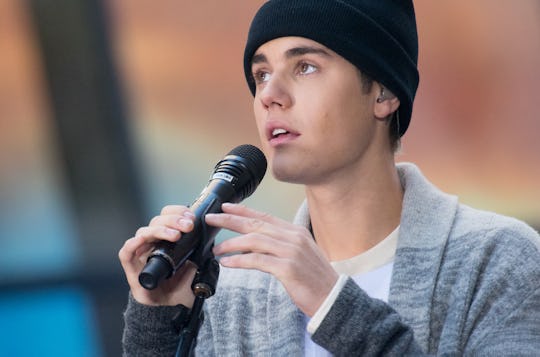 Justin Bieber Sang Three Songs From "Purpose" At The AMAs & Proved That He Is Definitely Back On Top
Things are going well for Justin Bieber, and his performance at Sunday night's American Music Awards drove that home. Bieber sang three songs at the 2015 AMAs, opting to include all of his hit singles from his new album, Purpose, and he definitely did not disappoint. He opened with an acoustic version of "What Do You Mean?" that reminded us all that, despite all the tabloid drama, dude can actually sing. He showed off some serious dance moves with "Where Are U Now," and then he capped it off by singing "Sorry" in some artifical rain (not quite sure why, but it was still cool).
The once tween heartthrob is in the middle of a serious comeback. Not so long ago, Bieber was peeing into restaurant mop buckets and was reviled by major celebrities. That changed in August when he took the stage at the VMAs to perform his new single "What Do You Mean?" The performance reminded the entire world of Bieber's not inconsiderable talent. The song was good. His voice was great. And a new studio album, his first since 2012's Believe, was on the way. Purpose dropped Nov. 13, but ahead of the release date Bieber released the singles "Sorry" and "I'll Show You." Billboard announced Bieber's renaissance. The Biebs is back.
And that was entirely clear in Los Angeles Sunday at the 2015 AMAs. Closing a show that included performances from The Weeknd, Celine Dion, Selena Gomez, One Direction, Jennifer Lopez, and a duet from Alanis Morissette and Demi Lovato, Bieber was in top form, living up the the hype that had been building all evening.
I mean, he danced in the rain to "Sorry," you guys.
And his acoustic performance was ON. POINT.
And also, there was this:
The Beliebers obviously went wild:
And others found themselves surprised at how much they liked his performance:
But the one thing nobody understood? Why did they turn off his mic?!
Even if you were cut off too quickly, we applaud you, Bieber. Way to turn things around by producing creative work with cultural value. Well played.
Image: Noam Galai/Getty Images Entertainment