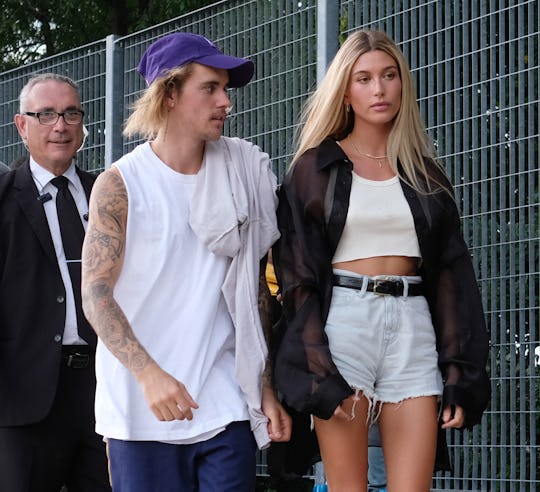 Nicholas Hunt/Getty Images Entertainment/Getty Images
Justin Bieber's Thanksgiving Post About Marriage Is *So* Mature
Justin Bieber might be just 24 years old, but I suspect he is wise beyond his years. After living in the public eye since he was in his early teens, with every relationship obsessed over and a group of fans who quite clearly worship him, it can sometimes seem as though the "Baby" singer has already lived three lifetimes. Which could explain his beautiful maturity, I think, especially now that he's at a serious new stage in his life. In a sweet Instagram post, Bieber opened up about his first Thanksgiving as a married man and had a surprising amount of wisdom to impart. Not to mention a healthy dose of humility.
Bieber and his new wife, 22-year-old model Hailey Baldwin (daughter of actor Stephen Baldwin) are still in the newlywed stage. Like, really newly wed, as a matter of fact; the two were reportedly married at a New York City courthouse back in September after being engaged for just two months, as per E! News. Despite the whirlwind manner of their courtship, however, they've known each other for years. They first met in 2009 and there have been rumors floating about the two dating since 2014. And now that they're married, Bieber wanted to take a moment at Thanksgiving to reflect on what being married means to him.
The "I'm The One" singer posted a picture of snow-covered woods (potentially in Ontario, Canada where he is from) one day after Thanksgiving with this heartfelt message in the caption:
Happy late thanksgiving to everyone. First thanksgiving as a married man, first time hosting thanksgiving. First time both sides of the family has come together. Relationships are hard and love isn't always easy but thank you Jesus for showing me how! Every day is a learning process, trying to be more like him, patient, kind, selfless, boy I got a long way! But gods grace is sufficient !
Considering the fact that the couple were married so recently, I think Bieber's acknowledgment that relationships are hard work is a great sign. It gives the impression that he's moving into this marriage with a grounded sense of what to expect, which proves he really could be wise beyond his years.
This isn't the first time Bieber has talked about relationship expectations when it comes to Baldwin. Back in a 2016 interview with GQ, the "Love Yourself" singer (who was reportedly "casually" dating Baldwin at the time) explained that he was treading carefully with his love life for an important reason:
So now I'm just more so looking at the future, making sure I'm not damaging them. What if Hailey ends up being the girl I'm gonna marry, right? If I rush into anything, if I damage her, then it's always gonna be damaged. It's really hard to fix wounds like that. It's so hard.… I just don't want to hurt her.
It would be so easy to dismiss Justin Bieber and Hailey Baldwin's marriage as some sort of celebrity whirlwind thing, but I think not. I think they might be young, but they seem to love each other and know what they're getting into.
And that's a lot to be thankful for.
This first-time mom wants to have a home birth, but is she ready? Watch how a doula supports a military mom who's determined to have a home birth in Episode One of Romper's Doula Diaries, Season Two, below. Visit Bustle Digital Group's YouTube page for the next three episodes, launching every Monday starting November 26.