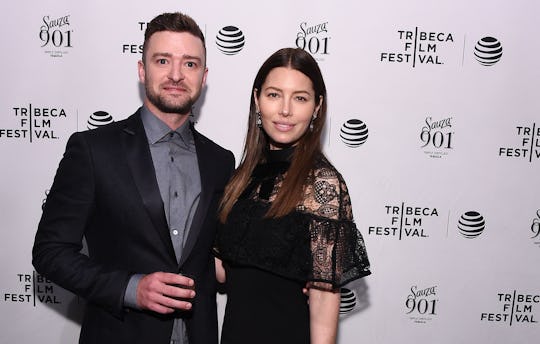 Ilya S. Savenok/Getty Images Entertainment/Getty Images
Justin Timberlake Shared A Mother's Day Photo Of Jessica Biel & Silas With A Great Caption
Jessica Biel is one lucky lady. The actor's husband Justin Timberlake shared the sweetest pic of Biel and their 13-month-old son, Silas, along with a lovey-dovey Mother's Day message that would make any lady swoon. Timberlake's lady love is much more than just his baby's mama, she's a mom he'd like to... well, you know. Justin Timberlake shared a Mother's Day photo of Jessica Biel and Silas, and the caption is hilarious. But, it also reminds people that moms are much more than caregivers.
Biel and Timberlake seem to really be enjoying the married, parent life. In the picture, Biel is all happy and glowing while holding her baby boy. But what's the very best part? The "I heart mom" embroidered on the bottom flap of Silas' body suit. A-plus for styling the baby, you two.
"M.I.L.F. Alert!!!!" Timberlake captioned his Instagram photo of Biel and baby Silas. "Happy Mothers Day to this AMAZING MOM AND WIFE. And, to all the mothers out there... You keep the World turning!! Hope every single one of you has an amazing day! -JT"
How is it even possible that Timberlake is just adorable of a dad as he was a singing, dancing boy band mega star? The message posted to his account followed by a mind-boggling 27 million people was simply pitch perfect, and I wouldn't have expected anything less.
Just a couple of weeks ago, Biel made an appearance at a Tiffany's gala where she was asked about "mom guilt" and how she juggles a successful career and her high-profile family. And, while I think it's a lame double standard to ask about "mom guilt" and never "dad guilt," her answer was lovely.
"Oh, you mean like a minute ago!?" she responded to the "mom guilt" question. "And just now! I feel it all the time. It's hard to find that balance, you know, between working and feeling like an independent person and like a woman again."
Sexist double standards aside, these little glimpses we've been given of a rich, famous, and successful woman like Biel struggling with her post-baby identity should serve as a reminder to all moms of young kids that the transition is hard. It's not easy to carve out an identity for just yourself when you're consumed by love and concern for a baby, which is why I think it's so absolutely darling that Timberlake took the time on Mother's Day to acknowledge his wife's attractiveness and that she hasn't lost one bit of her sex appeal due to motherhood. And if a gorgeous sex symbol like Biel needs an occasional reminder of the woman she was before Silas came along, then it seems any other woman might need — and totally deserves — the same kind of support and reminders from their partners. Every mom deserves to have their own M.I.L.F. alert — even if they aren't married to a former *NSYNC member.