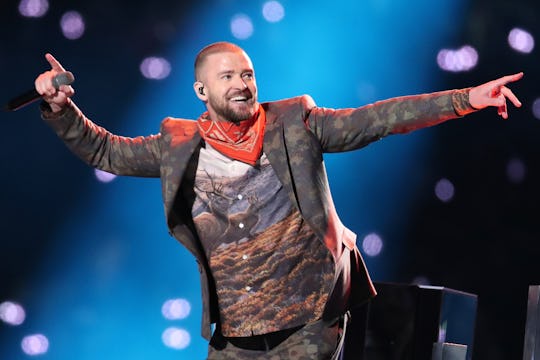 Christopher Polk/Getty Images Sport/Getty Images
Justin Timberlake's Shirt At The Super Bowl Halftime Has Twitter Feeling Some Things
In his much anticipated Super Bowl performance, Justin Timberlake tore up the stage by mashing together several of his greatest hits to give a super fun, energetic concert. But naturally, Twitter had to find something else to focus on, like Justin Timberlake's shirt at the Super Bowl halftime. Although, to be fair, it's a little distracting and kind of doesn't (OK, it really doesn't) go with his upbeat, peppy show.
To be honest, Timberlake is known for making some interesting choices when it comes to his wardrobe choices. I don't think anyone has to think too hard to recall the distressed denim getup he wore with then-girlfriend Britney Spears, am I right? That included a denim cowboy hat, you guys, along with that yellow, crunchy, Ramen noodle-like hair of his. And seriously, I know you all remember when Timberlake, then a member of *NSYNC, went through that FUBU phase with his bandmates that included oversized sweaters and really terrible jeans. Look, the '90s and '00s weren't kind to music when it came to fashion, but they did bring us Timberlake and his talents. Which means we now get to watch him sing it out as a married father in a really terrible shirt.
Where did that shirt's inspiration come from? A mouse pad from Office Depot in 1998? A mug your grandpa used to hold pens? Some gas station souvenir outside of the Grand Canyon? Look, I'm not here to judge Timberlake's wardrobe choices (just kidding, totally am), but it seemed like a really strange choice. Unless, like some Twitter users speculated, he chose the outfit as an homage to the great state of Minnesota.
Timberlake spent his halftime show paying homage to another great — Prince. After initial reports claimed that Timberlake had scrapped an idea to create a Prince hologram for the concert, it seems he decided to go for it anyway. While singing a Prince classic, "I Would Die 4 U," a huge projection of Prince played behind him on the stage, washing everyone and everything in a purple glow, reported People. Timberlake also spent the halftime show mashing together some of his most well-known tracks like "SexyBack," "My Love," "Rock Your Body," and "Cry Me A River." It was basically a heavy dose of nostalgia... especially with that standard computer background shirt.
OK, seriously, if you're thinking that shirt of Timberlake's was one he bought out of a Fingerhut catalog, you are truly mistaken. His halftime outfit was created by none other than legend Stella McCartney, reported E! Apparently McCartney, along with British artist Martin Ridley, designed the landscape setting for the shirt along with the camo and fringe getup as a nod to Timberlake's "western aesthetic" he's moving towards with his new album. Timberlake has spoken candidly about how important his wife and son are to him and how his music is reflecting that, so it seems the outfits really wanted to get back to the basics. The colorful bandana was added for a splash of color and apparently the layers were more than just fashionable — they were there to keep him warm in the Minneapolis temps, too.
Whether you hated Timberlake's shirt or want one for yourself, the thing we can all agree on is that the man puts on one great show. From marching bands to taking selfies with kids in the seats, Timberlake didn't spare a single moment of his halftime show and I found it super fun to dance with my 3-year-old through the whole thing. Now if she ever asks me for a shirt similar to JT's, we'll have to pass. Even if it is Stella McCartney.
Check out Romper's new video series, Bearing The Motherload, where disagreeing parents from different sides of an issue sit down with a mediator and talk about how to support (and not judge) each other's parenting perspectives. New episodes air Mondays on Facebook.