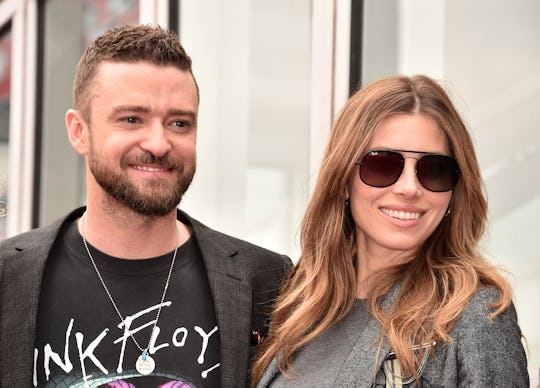 Alberto E. Rodriguez/Getty Images Entertainment/Getty Images
Justin Timberlake's Story About Potty Training His Son Will Definitely Make You LOL
Justin Timberlake has been wonderfully, adorably open about how much he loves being a dad. He and wife Jessica Biel are pretty private about sharing pictures of their 3-year-old son Silan Randall with the public, but they don't worry about keeping their adoration for him private. Because when you're a parent, it seems like that's the thing you tend to want to talk about, even if you're a famous singer. I mean, even Justin Timberlake's potty training story about Silas ended up being too sweet for words. A little gross and a little too close to the bone for parents who are still in the thick of the horror that is potty training, perhaps. But otherwise it was utterly charming.
The Man In The Woods singer was on Ellen recently, talking to host DeGeneres about a number of things going on in his life these days. His Man In The Woods tour, the fact that his former boy band *NSYNC was recently given a star on the Hollywood Walk of Fame... and his little boy's bathroom habits. Because that feels like a natural segue, right? His tale of potty training starts the way any great story about a toddler starts... with a surprise in the middle of the night.
Timberlake told DeGeneres that Silas came to visit his dad in the middle of the night when he was getting home from a tour with the classic wake-up technique; a hand just all over your face:
He's gotten to the point where he can get out of bed and sneak around the house, and sneak into our room and kind of crawls up on the bed. It's very, very sweet... and I was very, very tired.
Timberlake went on to explain that Silas is a "big boy now, which he will be happy to tell you. So we're getting well down the line with the pee-pee on the potty thing. But at night time we give him a diaper."
Although, as the "Can't Stop This Feeling" singer would soon learn, a diaper is no match for a toddler with a plan. Silas climbed in to hug him, and Timberlake's back was suddenly "really, really wet."
So... yeah. Silas Randall just peed on Justin Timberlake, I guess.
Not that Timberlake is complaining. He told DeGeneres the he had "never been more excited to be peed on," and if that's not the literal definition of parental love, I'm not sure what is.
Well, there's the whole being glad to be peed on by your kid thing, but then there's the fact that he named his new album after Silas. He told Zane Lowe on Beats1 radio:
I literally just went on Google like, 'meaning of the name Silas,' and it sent me to this to this site and it said, 'of Latin origin meaning 'Man of the woods.' I was like, 'How serendipitous that my last is Timberlake, like what does that mean?'
Timberlake also said in that same interview that being a father to Silas inspires him every day:
'Am I going to completely mess this kid up?...I feel like the success of parenthood is feeling like I failed all day today, but I get to wake up tomorrow and do it again and hopefully they turn out to be a good human being.
I know I shouldn't rejoice in the idea that Timberlake's son Silas is getting pee on his dad, but I can't help it. Because I had my own years of getting pee on me, and I like knowing famous people have to go through the same thing.
I guess misery really does love company, especially if that company is Justin Timberlake.
Check out Romper's new video series, Bearing The Motherload, where disagreeing parents from different sides of an issue sit down with a mediator and talk about how to support (and not judge) each other's parenting perspectives. New episodes air Mondays on Facebook.