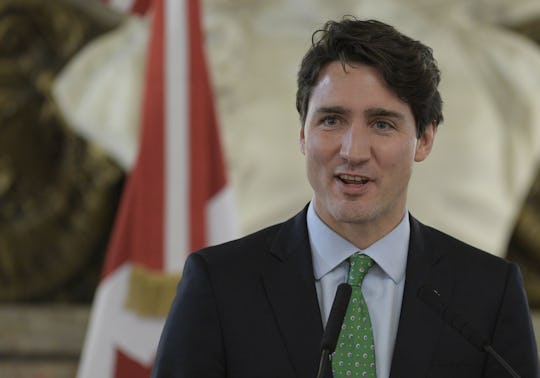 JUAN MABROMATA/AFP/Getty Images
Justin Trudeau Sees 'Rogue One' & Invites A Few Friends From Ontario Children's Hospital
Just because you're a Star Wars fan boy doesn't mean you can't run a country, right? Canadian Prime Minister Justin Trudeau has been professing his love for all things Star Wars for decades, and he's ready to share that love with a very special group of people. Trudeau saw Rogue One with a group of children from an Ontario hospital on Tuesday, and reminded us yet again why we love him (as if we needed the reminder).
Trudeau invited 20 patients from the Children's Hospital of Eastern Ontario in Ottawa to join him for an advanced screening of the new Star Wars prequel Rogue One, which won't be fully released until Friday. Trudeau and the kids enjoyed the VIP treatment at a local theater as well as the all important bragging rights to seeing a Star Wars movie before any of your friends. Which was arguably just as important to Justin Trudeau as it would have been to the children in attendance; He is a high-level Star Wars geek dating back to his childhood and he waves his geek flag with pride, although I have a sneaking suspicion the special screening of Rogue One wasn't his only impetus. If Trudeau's Twitter post is to be trusted, he's looking pretty happy just being there with the kids.
This isn't the first time Trudeau treated some patients from the Children's Hospital of East Ontario to a Star Wars screening; last year, he brought 11 kids along to see Star Wars:The Force Awakens.
When asked by reporters afterwards what he thought of the movie, Trudeau said:
I can tell you it is as good as I had hoped it was. I was your age when I first saw Star Wars and like every one of my generation or everyone I knew of my generation — maybe I just hung out with geeks — but it was a life-changing movie.
And if you're wondering if Trudeau is for real with the Star Wars love, here he is as Han Solo for Halloween, featuring wife Sophie Gregoire-Trudeau as a killer Princess Leia.
Trudeau might be a big fan of Star Wars, but he's an even bigger fan of kids. As Tammy McAllister, a mom of a young attendee from last year's premiere of Star Wars: The Force Awakens told The Toronto Star, "I didn't see a prime minister; I saw a young dad that likes kids."
McAllister said she watched him interact with the kids, and was amazed at how youthful he seemed. McAllister's son Justin LeBlanc, who lost his leg to bone cancer in 2014, felt the movie was a "five out of five."
And as for his thoughts on Prime Minister Trudeau? "[He was a] normal guy, I'd say, like you and me."
You really can't say fairer than that now, can you?