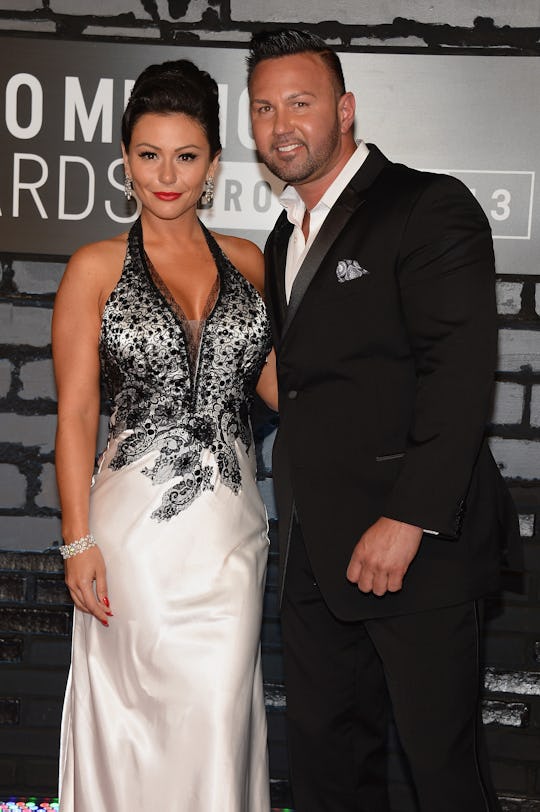 Jamie McCarthy/Getty Images Entertainment/Getty Images
Whatever Happens With JWoww & Roger's Marriage, It's Clear Their Kids Are Their Top Priority
In case you missed the sad news this past Thursday, Jersey Shore star Jenni "JWoww" Farley and her husband of almost three years, Roger Mathews, have split up. Although the development is disappointing to many fans, their supporters can rest assured that the parents will keep it positive for the sake of their two kids, Meilani, 4, and Greyson, 2. Want some proof? Look no further than JWoww's new photos with Roger at a Disney event.
JWoww filed for divorce from Mathews a few weeks ago in Ocean County, New Jersey, reportedly citing "irreconcilable differences" as the reason for splitting, App.com reported. "The Plaintiff and the Defendant have irreconcilable differences which have caused the breakdown of the marriage for a period of at least six months which make it appear that the marriage should be dissolved and that there is no prospect of reconciliation," JWoww's petition reads, according to App.com. Romper's request for comment from JWoww's representative on the reports was not immediately returned.
News of the divorce broke a little less than a month before the couple was to celebrate their third wedding anniversary on Oct. 18.
As for Mathews' take on JWoww's filing? He vowed to win the reality star back. He said in an Instagram video shared on Thursday, according to Us Weekly:
My wife filed for divorce, it's true. I don't blame her. There's no cheating or any dumb s—t or any juicy details. She just grew tired of the repetitive pattern that we fell into … and [it was] not a good one. I'm not done fighting, I'm gonna win my wife back. I'm gonna win her affection back, I'm gonna win her love back. … We're in counseling so there is hope. It ain't over till the fat lady sings.
Although it's not clear if JWoww and Mathews will work out their issues one day, what's obvious is the love they have for their children. Case in point: JWoww and Mathews both attended a Disney event with Meilani on Sunday.
"@disneyjuniortour fun 💖💙💖💙💖," JWoww captioned shots of Meilani, Roger, and a young family friend on Instagram.
Mathews followed up JWoww's sweet message with his own post, captioning a shot of the group: "Good day with the Disney JR squad. Thanks Mom for putting it together."
Aww. What a cute family day, right? It's nice these two could put whatever differences they may have for Meilani's happiness.
Shortly after the parents shared the posts, many fans praised their maturity.
"So happy to see you all together," one person wrote.
"Co-Parenting done right 🙌," someone else chimed in.
Another commenter said: "Love that you are still doing things as a family.. That's amazing for the kids.. Wish my ex husband and I could co-parent this well.."
"Can't imagine how you two must be feeling. It's nice to see the both of you involved with parenting though❤️," another fan added. "At least we know that will never change! Best of luck."
Considering JWoww recently revealed that Greyson has a speech delay, it's especially important that the two remain close during this time. From communicating with Greyson's therapists to being on the same page about his care, remaining cordial is crucial for these two.
On that note, good luck to JWoww and Mathews as they navigate their new normal as separated co-parents. I don't know about you guys, but I have a good feeling they'll make things work no matter what.