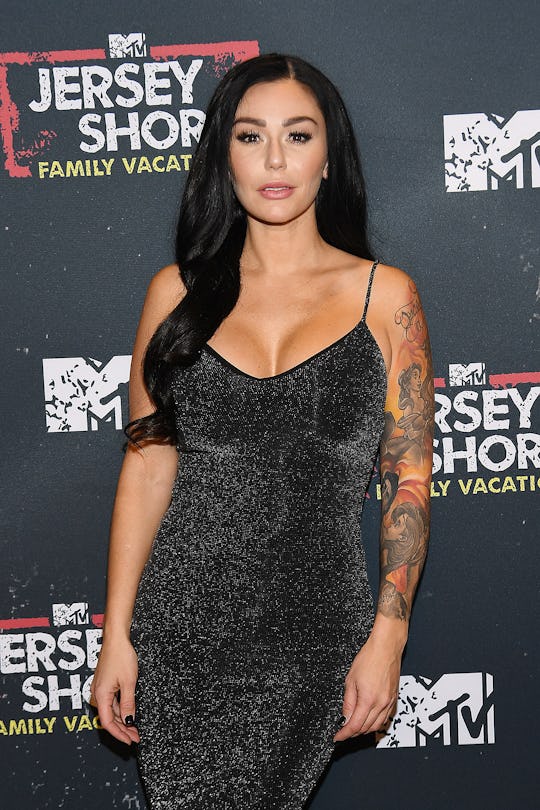 Dave Kotinsky/Getty Images Entertainment/Getty Images
Here's Why Jenni "JWoww" Farley Decided To Discuss Her Son's Speech Delay Publicly
Jersey Shore: Vacation's Jenni "JWoww" Farley is very open about her two kids, Greyson, 2, and Meilani, 4. For instance, during the Aug. 23 premiere of the MTV series' second season, she revealed that Greyson struggles with language acquisition, an issue that caused her a lot of heartbreak. Although Greyson's struggle has been difficult to discuss publicly, JWoww spoke out about her son's speech delay due to a common phenomenon called mom guilt, as she told People in a recent interview.
Greyson's speech delay first came to light when JWoww complained to Jersey Shore: Vacation's cameras that her cast mates — with the exception of Mike "The Situation" Sorrentino — didn't contribute to a surprise Mother's Day video her husband, Roger Mathews, organized. JWoww was especially hurt by the incident because she was struggling with Greyson's developmental issue at the time.
"Everyone wants to think having kids is rainbows and f***ing unicorns but it's not. My bubbe Greyson turned 2 and he still isn't speaking and he has therapy three days a week," JWoww shared, according to Hollywood Life. "Roger decided to make me a mother's day video and have all my friends be part of this video by sending in thirty-second clips. Mike was the only one to be part of this video and it's really hurtful on so many levels."
Following JWoww's admission, many parents came out of the woodwork to thank her for sharing. Touched by the overwhelming response from fans, JWoww provided an update about Greyson's speech delay one day after the show's premiere.
"To find out Greyson is 'behind' or 'delayed' crushed me... but only for a moment," JWoww said in a video, according to E! News. "That moment came from wanting to have 'perfect children' and 'how could this happen to me?'... but Grey is PERFECT and it CAN happen to anyone."
The reality star continued, "I saw that last night when the messages came in by the hundreds. I decided to share that side of my family on Jersey Shore because I want to help anyone going through what I'm going through... I'm sure people need support the way I've needed it."
But there was another reason JWoww got candid on the show: mom guilt. As she explained to People:
When I originally did that with Jersey Shore, I only did it, not as an excuse, but to tell my side of the story in case I had to truly leave the show. You know, mom guilt was kicking in. It's very much like [pregnant Deena Cortese], how she didn't go to Vegas. It was just telling my side of the story. But I didn't realize the thousands of people that would respond to it.
Makes sense, right? Experiencing mom guilt is super common, and I can't imagine how JWoww dealt with that while in the public eye. Speaking of, it was probably a good idea she gave fans a heads up about the issue because she wouldn't want to deal with speculation and rumors if she did decide to leave early. Sometimes it's best to be transparent, even when it's hard.
This isn't the first time JWoww has opened up about mom guilt. She said to People about trying to stay positive throughout filming Season 1:
If I keep thinking about the kids, then I'm going to get upset and I'm going to ruin everyone's time. So there is a time where I flip the switch: They're good, they're having fun, they're with their dad. Everything's fine.
Aww. Although JWoww's mom guilt is completely normal, here's to hoping she is able to move past this feeling in regards to Greyson. The Jersey Shore star is clearly a great mom to the little guy, and she couldn't be doing a better job.