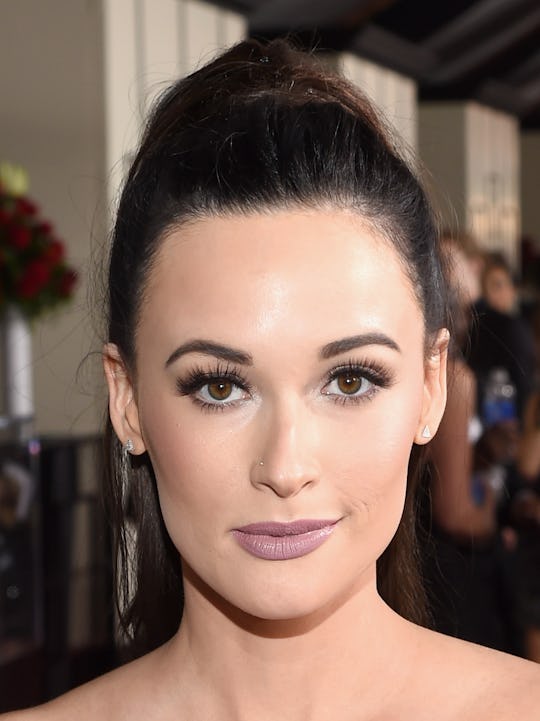 Larry Busacca/Getty Images
Kacey Musgraves' Grammys Dress Is The Best Birdlike Look Of The Night
Texas-born country star Kacey Musgraves is known for going her own way, musically and when it comes to her fashion choices. Musgraves first made waves with her 2012 debut single "Merry Go Round," which refused to romanticize small town American in the way country music usually does, and she's known for her fun, feminine performance attire. Musgraves won a Grammy for "Merry Go Round," and this year she is nominated for Best Country Album for Pageant Material. And Kacey Musgraves' 2016 Grammys dress, at least, signaled that she is ready for another win.
Musgraves is known for her ultra-feminine style, often choosing short, skater silhouettes and sweatheart necklines for her costumes (complete with cowboy boots). A Rolling Stone profile last June described Musgraves' performance look as "a Katy Perry-like visual aesthetic — her stage sets feature light-up cowgirl outfits and neon cacti." But that's what makes Musgraves' style unique: she is all about fun, and not very much about what other people think. "Her look is not the least bit subdued, but that's what makes it so refreshing," Bustle's Melissa L. Hanley wrote last year. And clearly it has won her positive attention. Boot brand Lucchese invited Musgraves to do a four boot collaboration with the brand that debuted in November, Us Weekly reported.
As Musgraves tool the red carpet Monday night, it was clear that she hasn't lost the fun, flirty, IDGAF mindset that has made her music and her style so appealing. Musgraves wore an absolutely amazing sleeveless Armani Privé gown in stunning peacock shades of purple, green, and blue. Check out the look:
And fans were feeling her look pretty hard too:
I never thought I would ever say "oh, she looks like a peacock" in a positive way, but hey, this night is full of surprises.