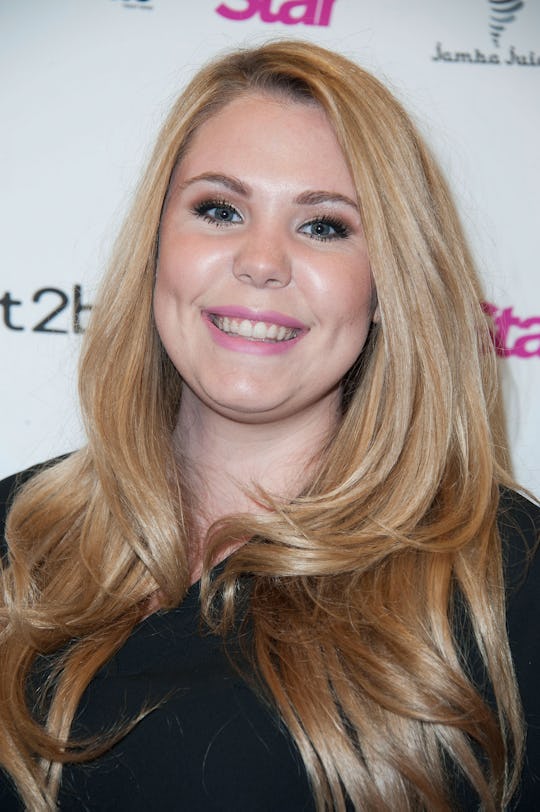 Valerie Macon/Getty Images Entertainment/Getty Images
Kailyn Lowry Reveals Why She *Still* Hasn't Officially Named "Baby Lo"
Kailyn Lowry from Teen Mom 2 gave birth to her third son a little over one month ago. The new mom has been gushing about her new arrival, posting sweet pics of him on Instagram, Snapchat... the usual behavior for a proud parent. Only one tiny fly in the ointment; he apparently doesn't have a name as of yet. And for whatever reason, it's got people feeling heated. Well, everyone can just calm down a little, because Lowry explained why she hasn't named her baby. And honestly, it's really not a big deal (he can't talk or anything yet guys, so... ).
During a recent interview with Us Weekly, Lowry explained that she's been struggling to come up with a name that really feels like is right for her baby. The 25-year-old mom of three (sons Isaac, who is 7, and Lincoln, who is 3) said:
I thought I had a name and I would refer to the baby as that name in text messages or say it. And it didn't feel right so I kept trying a couple different ones and none of them felt right.
She also acknowledged that it was a lot easier the first two times around:
For my other two I had names, and this time around it was such a struggle.
While all of social media seems to be giving Lowry grief over her lack of a baby name, it's not like she hasn't been trying. Last Thursday she took to Snapchat with her baby-naming adventure. She and her pal Bone Estrada went to the hospital to make a name official, but Lowry came up dry. So she even took to reading the names on the plaques on the donor wall... to no avail, according to In Touch Weekly.
Harry, John, Herman, Alan, Wallace, Maurice, Walton, James, that's a no, Frederick is a no, Wayne, Edward, William, Robert, Tom. All these names are so basic!
Despite her struggle to name her third son, who was born on Aug. 5, it seems she's narrowing down her options. "Baby Lo," as she has called him ever since she went public with her pregnancy in March, could be getting a name in the near future. She told Us Weekly:
I kind of have the one that I want to name him. But I haven't legally named him yet.
If her Twitter is to be believed, it seems she's waiting to announce the baby's name via a specially embroidered blanket. Or she's kidding; it's tough to tell via Twitter.
For now, Lowry reports that Baby Lo is doing well. She's not getting any sleep, of course, and she admitted having three children is "more difficult" than having two during her interview with Us Weekly, but otherwise the young mom is making things work. She's navigating the incredibly choppy waters of co-parenting three sons with three different fathers (Javi Marroquin, Jo Rivera, and Chris Lopez respectively), and it can't be easy. But she told Hollywood Life that she's figuring out a system that works for her and the kids with at least two of the fathers:
Javi and I are up and down like we always have been, but I get along with Chris and Jo so that's helpful.
That's not all this ambitious mom has figured out; in May, she earned her bachelor's degree from Delaware State University after six long years of struggle. Lowry wrote of her journey to become a college graduate on her blog:
Between teen motherhood, financial hurdles in the beginning, then moving to a new state, marriage, babies and divorce… and then of course just wanting to give up, I (barely) held on.
Really, she's been a busy woman... so perhaps let's all just give her a minute to decide on a name for her baby. Because, as any parent knows, that's a big decision to make.
Watch Romper's new video series, Romper's Doula Diaries:
Check out the entire Romper's Doula Diaries series and other videos on Facebook and the Bustle app across Apple TV, Roku, and Amazon Fire TV.