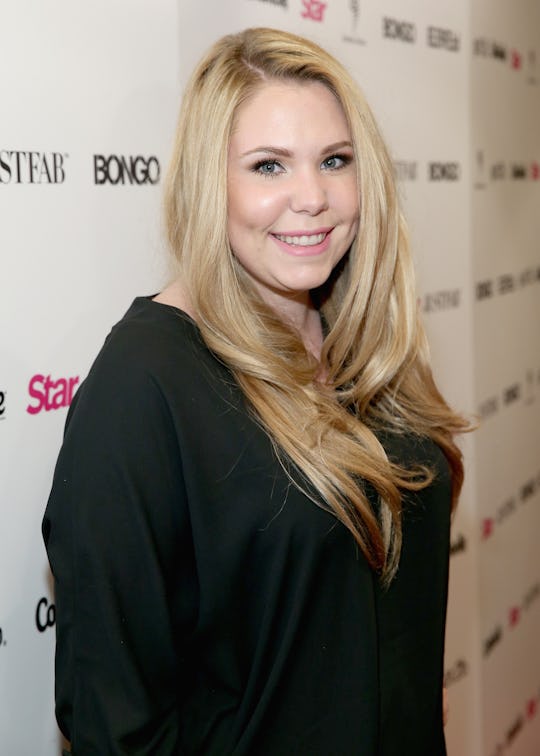 Jonathan Leibson/Getty Images Entertainment/Getty Images
Kailyn Lowry Shut Down Critics Who Said She Shouldn't Call Her Kids By Their Middle Names
The ladies of the Teen Mom franchise seem to have targets on their backs when it comes to internet shaming, and one mom is a fan favorite for nitpicking. From how she raises her children to what she does with her free-time, nothing is off limits apparently. Most recently, people think Kailyn Lowry is "confusing" her kids by calling them by their middle names. Seriously, guys? Do you have nothing better to do than obsess over this family? Lowry is sticking up for herself in the face of this criticism, though, as she has in the past.
All of this middle name nonsense began with a sweet tweet about her youngest son, Lux Russell, turning one year old. After completing the invites for his party and purchasing a birthday gift for him, Lowry, of Teen Mom 2, tweeted that she "cannot believe he's about to be one," calling him by his middle name. Rather than marvel with the mama at how quickly little babies get big, some of her followers lost their minds over the fact that she called him anything other than Lux. The main concern seemed to be that baby Lux would get confused by her calling him Russell, despite the fact that it's a part of his name.
A number of her followers voiced their concerns over this confusion. Some asked why she didn't choose Russell for his first name if she would like to call him that, while others said that they "just don't get it."
But Kailyn responded to the critics with the most succinct, pointed tweet. She tweeted out, "Awe, thanks for your concerns guys, but my kids respond to their first & middle names... even Isaac. Nobody's confused. Have a nice day!"
Some of her followers jumped to her defense as well, with one writing, "My brother goes by his middle name and he has since he was born. There's times I call my daughter by her middle name. It's no big deal." Another pointed out that even dogs can manage to answer to more than one name:
My dog's name is Mirabella, but she answers to Bella and B also. So since my dog can handle being called more than one name, I'm sure her kids can too.
Others echoed their sentiments, adding that Lowry is a great mom and pointing out that others on Teen Mom also use their little one's middle names.
In case you're wondering how Lowry decided to name her son Lux Russell (it took her nearly three months to choose a name), she recently opened up about where it came from. The mother to three told The Ashley:
It took me so long to name the baby because I was trying to work with Chris [Lopez] to agree on the name. But we just couldn't agree. Until we ended things [between us] for good and I decided I would just pick something I loved and he agreed to the first name [we picked] prior to me deciding it would be the name for sure.
She went on to explain that while Christian was another top choice for her son's name, "I finally decided on a name because it felt like I was going nowhere with Chris trying to decide. Lux is different but not completely off-the-wall." Lowry's other two children are named Isaac Elloit and Lincoln Marshall.
Along with what names she calls her children, Lowry has also been criticized for her body, for going on vacation without her kids, for going back to school, and for not cutting Lux's hair — to name a few. She has, on occasion, responded to her critics, but doesn't always. Regardless of whether or not she chooses to stick up for herself, her life and her choices are no one's business but her own.