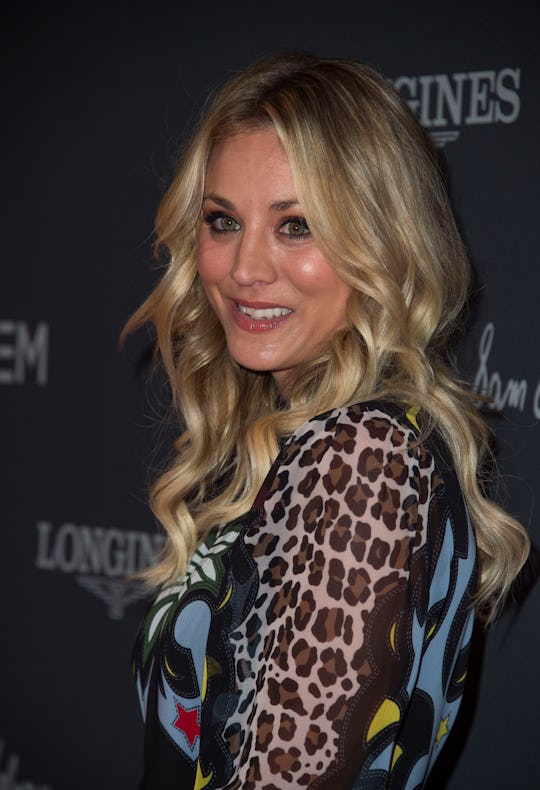 VALERIE MACON/AFP/Getty Images
Kaley Cuoco's Plastic Surgery Comments Are Refreshingly Honest
I want Botox. There, I said it, okay? I've been trying to grow old gracefully, with natural beauty and all that, but the kids keep messing it up on me. Enter Botox. My friends have been anti-Botox and plastic surgery from the get go, so I'm sort of glad Kaley Cuoco from The Big Bang Theory just came out of the closet. Cuoco opened up about embracing plastic surgery, and now I can go ahead and book my appointment.
Cuoco appears on the December issue of Women's Health magazine looking amazing, of course. And instead of going the tried-and-true route of beautiful women in Hollywood since forever by claiming she simply "eats right and exercises", Cuoco got super real about her cosmetic procedures and how getting a little work done makes her feel about herself.
Years ago, I had my nose done. And my boobs — best thing I ever did. Recently, I had a filler in a line in my neck I've had since I was 12. As much as you want to love your inner self … I'm sorry, you also want to look good. I don't think you should do it for a man or anyone else, but if it makes you feel confident, that's amazing.
Cuoco was candid in her interview with Women's Health about everything from her exercise routine (she's a big fan of yoga, in case you're wondering), her love of horses, and her divorce from ex-husband Ryan Sweeting last year. But it was her honesty about going under the knife and loving the results that was especially refreshing. In an industry that banks not only on beauty, but on the idea that a certain type of beauty is utterly unattainable for most women, it was nice to have one such beautiful person come forward to say, I did this and I did it for myself and I don't regret it.
Cuoco is part of a new breed of celebrities, like Iggy Azalea and Kylie Jenner, who are owning up to plastic surgery. Singer Azalea shared her breast augmentation news with Vogue last April, saying in an interview:
Four months ago, I got bigger boobs! I'd thought about it my entire life.
For her part, youngest Kardashian sister Kylie Jenner admitted to getting her lips done on her website:
As of now, I only have lip fillers. Like I've said before, it has always been a huge insecurity of mine and I wanted to make a change.
Plastic surgery clearly isn't for everyone, and no one should ever have to feel as though there is something "wrong" with them, something they have to change about how they look to be more accepted. But neither should anyone feel like they have to hide something that makes them feel happy.
Thanks, Kaley Cuoco. I needed that.