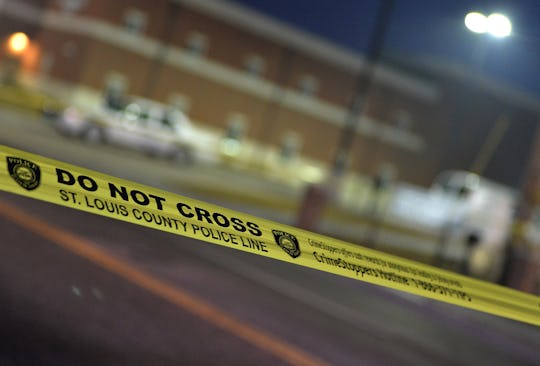 Michael B. Thomas/Getty Images News/Getty Images
Kansas Workplace Shooting Leaves At Least Two Dead — REPORT
Tragedy has struck the sleepy town of Hesston, Kansas this week after a workplace shooting left at least two dead and many more injured. According to authorities, the shooting took place at Excel Industries, a lawnmower manufacturing plant some 36 miles north of Wichita.
According to a Harvey County dispatcher, the shooting was reported shortly after five o'clock p.m. At the time the scene was described as an "active shooter" situation. Excel Industries, a lawnmower manufacturing company, is located about two miles from Hesston College. Police have placed the school on lockdown.
Student "D.J." told media outlet KAKE via telephone that students "all been told to stay in each building, wherever you are, and they've locked the doors." There are approximately 375 student and faculty at the college who have been told to stay locked indoors until further notice.
Update on Hesston shooting.
It has now been confirmed that the alleged gunman was killed by authorities. The suspected shooter is said to have been an employee of Excel Industries. Witnesses report that a truck arrived at the business around 4:30 p.m and a man gunned down a woman in the parking lot before entering the building and opening fire. The County Sheriff has also confirmed that the attack has left as many as three to four people dead and as many as twenty other people wounded. The injured were rushed to Via Christi St. Francis Hospital in Wichita.
Not much is known about the alleged shooter at this time. A woman told Monica Castro, a reporter for KAKE, that the shooter was a black male carrying an AK-47. She told Castro that she got her information from her husband, an employee of Excel Industries who was inside the building at the time.
Harvey County Sheriff T. Walton said at a news conference this evening that there were "A number of crime scenes involved" including the Excel Industries plant. Walton told reporters there could be as many as four crime scenes involved; the Excel plant, another location in Hesston where someone was shot in the leg, another shooting in the town of Newton and a fourth location. The Sheriff is asking for patience as the authorites try to handle the situation.
"This is just a horrible incident," he said. "Please bear with us. Be sensitive."
Since the alleged gunman was killed by authorities, nearby Hesston College is no longer on lockdown. Hesston, Kansas is a small community with a population of approximately 3,700. Our thoughts are with them.