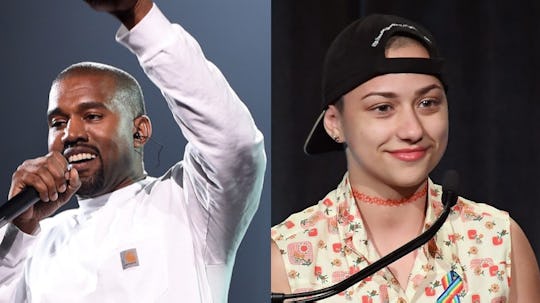 Dimitrios Kambouris/Getty Images Entertainment/Getty Images/ Dimitrios Kambouris/Getty Images Entertainment/Getty Images
Kanye West Called Emma Gonzalez His "Hero" & The Parkland Survivor's Response Has Twitter Shook
Imagine for a moment that you're a teenage girl and that arguably the most famous rap star in the world gives you a shout-out. And not just any shout-out; he has nothing but good things to say about you. What do you do? I know if it was me as a teenager, I would have been over the moon. But I'm no Emma González, of course. When Kanye West called Emma González his "hero" recently, the Parkland's survivor's response was nothing short of amazing and thought-provoking. And Twitter is, as ever, in awe of this outspoken young activist who never strays from her message of better gun laws, even when Kanye West is tipping his proverbial hat to her.
After taking a brief hiatus from Twitter, the "Famous" rapper is back with something of a vengeance. He's been making headlines in recent days for his tweeting, which have become progressively more polarizing as time went on. While he initially seemed to focus his attention on sharing philosophical tidbits with his followers, the father of three switched gears on Wednesday and started tweeting his support of President Donald Trump (which left the president delighted enough to tweet twice about West).
The president might have been ticked pink about West's series of tweets, but his delight was probably pretty short-lived. On Saturday, West took to Twitter again to call Parkland gun activist (and well-known Trump critic) Emma González "my hero."
West then tweeted a picture of himself looking intensely into the camera with newly-shorn hair with the caption "Inspired by Emma."
Trump supporters weren't terribly impressed with West's new "hero," a 17-year-old girl who has become famous for eloquently and passionately speaking out for safer gun legislation in the two months since the devastating mass shooting at her Parkland, Florida high school that ended with 17 people dead. In fact, González has taken pretty specific aim at Trump in the past, the same man West referred to as his "brother" on Twitter.
But perhaps the most interesting response was from the young hero herself, who used the same format as West's tweet to post a picture of her own hero: Waffle House shooting hero James Shaw Jr.
Shaw was a customer in an Antioch, Tennessee Waffle House when a lone gunman entered and opened fire, killing four people, as ABC News reported. According to CNN, Shaw pried an assault rifle out of the gunman's hands, at great risk of injury to himself, and staved off further gun violence in the process. President Trump has yet to acknowledge the shooting or Shaw's heroism, despite the fact that the Tennessee General Assembly officially acknowledged him as a hero last week.
González could have just reveled in accolades from the rapper, but instead she turned the attention back to something that truly matters; gun reform. Actual acts of heroism by people who put their lives in danger. The power of good people in the face of fear. And Twitter loved it.
It takes a pretty strong person not to have their head turned by the attention of a celebrity, and I'm going to go out on a limb here and say it's especially noteworthy when a 17-year-old kid keeps her wits about her and stays on message. I don't know if I could have done it.
But then again, I didn't have to live through what Emma González and all of those other Parkland school shooting victims lived through. Nor have I been in the position of James Shaw Jr. They are both heroes, in my opinion, and the world might become a better place because of them.