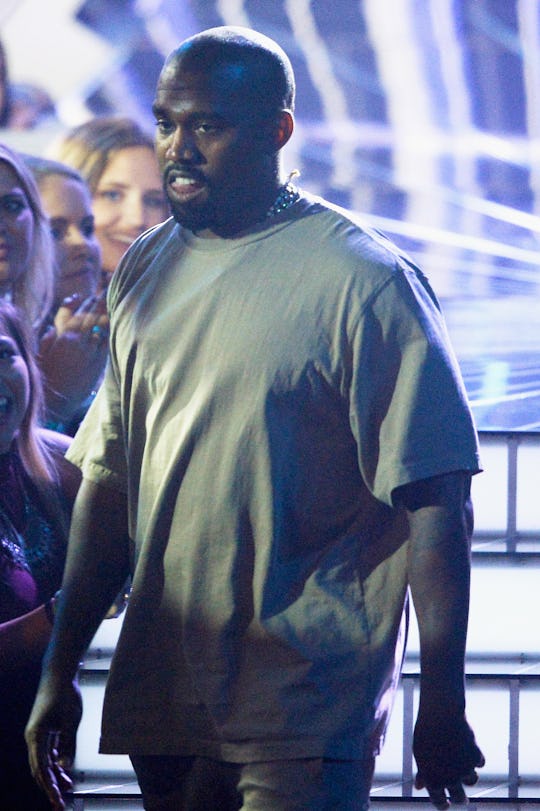 Kevork Djansezian/Getty Images Entertainment/Getty Images
Kanye West Delivered Another Memorable VMA Moment, Because He's Kanye West
The 2016 MTV Video Music Awards has long been a catalyst for outrageous moments. Of course, the majority of those moments (as of late) have been courtesy of Kanye West. So it's no surprise that Kanye West delivered another Kanye West moment at the 2016 VMAs that will give us think pieces and "bro" pieces for days — if not weeks — to come.
Kanye didn't pull any punches, alluding to the now infamous recorded phone call between West and Taylor Swift, in which Kanye played a portion of his "Famous" lyrics for the singer. Swift went on to deny she ever knew that Kanye wrote lines like, "I feel like me and Taylor might still have sex. Why? I made that bitch famous (God damn)." The damage was done, so-to-speak, as it became painfully aware that Taylor did know that West was going to say what he said, even telling him she thought it was "cool" that he thought of her enough to call and make sure she was OK with his "artistic expression." Of course, if you want to know more, all you have to do is check out his wife, Kim Kardashian-West's Twitter timeline.
Next, Kanye went on to touch on his somewhat-disturbing music video for "Famous," where he "put Ray J in there, bro." Of course, for those who have been living in a rock for twenty or so years, Ray J was the one to leak a sex tape with Kanye's now-wife, Kim Kardashian. Kanye said his choice to include Ray J is "part of being famous" and, in the end, part of what it means to be influential.
West even gave a shout-out to his ex, Amber Rose, because, well, why not? Although West hasn't been very kind to Rose in the past, even claiming he had to "take 30 showers" after he dated Rose, he (maybe?) has moved past whatever feeling he had about the anti-slut shaming celebrity, giving her a shout-out on the VMAs stage.
Of course, the VMAs have Kanye to thank for many memorable moments in the past. Who can forget the notorious 2009 VMAs, when Kanye infamously interrupted Taylor Swift during her acceptance speech for Best Female Video. That moment set off what can only be described as a never-ending "feud," which has been continuously fed and arguably reinforced by recent events, including Kanye's lyrics on his track "Famous." After his wife, Kim Kardashian-West, released video of Kanye speaking to Swift on the phone (essentially informing her of his "inappropriate" lyrics, and asking her if she was OK with them), Swift released a statement saying that she did not approve of Kanye's lyrics, and didn't appreciate him equating her fame to his VMA moment.
Kanye and Swift shared what was considered a touching moment on the VMA stage, when Swift presented Kanye with the Video Vanguard award in 2015. Swift gave Kanye a seemingly sincere hug onstage, as both superstars supposedly put the past behind them. Of course, that wasn't the case, because nothing is at it seems, especially on MTV.
Swift chose to forgo a 2016 VMAs appearance, probably because the award show chose to give Kanye four minutes of "free time" to talk about whatever it is he wanted to talk about. Say what you will about her choice, but at least she didn't have to sit through the somewhat awkward, but certainly candid, most-recent Kanye rant.