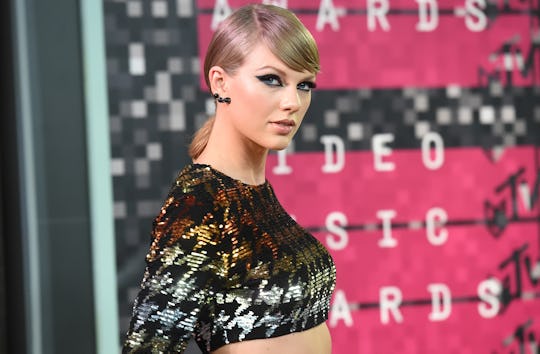 Jason Merritt/Getty Images Entertainment/Getty Images
Why Isn't Taylor Swift At The VMAs? It's Kind Of Complicated
We all know Taylor Swift has a long and complicated history with the MTV Video Music Awards. Who can really forget the origination of her feud with Kanye West, when he stormed the stage as she was accepting the award for Best Female Video in 2009? Fast-forward seven years, and that incident also helps answer the question of why Taylor Swift isn't at the VMAs.
The most straightforward explanation of why Swift is a no-show is that she wasn't directly nominated for any VMAs in 2016. Although she was technically eligible for clips from two music videos, "Wildest Dreams" and "Out of the Woods," she didn't get any nods for those. But it's a bit more complicated than that: Ex-boyfriend Calvin Harris got a VMA nomination for his collaboration with Rihanna. Considering Swift secretly wrote "This Is What You Came For" — the song that Harris ended up winning a VMA for — that could have been reason enough for her to attend the show. But, Swift's relationship with Harris has gone south, to put it lightly.
Then there is the West matter. Swift and West's drama was drawn back to the surface this year at the Snapchatting-hands of Kim Kardashian, which seemed to reverse any goodwill the two singers established at the VMAs last year when Swift presented the Video Vanguard Award to West. According to insiders, West has again been granted "full reign" over his four-minute performance at the VMAs — so it's probably wise Swift keeps her distance, lest cameras zoom in on her reaction multiple times throughout the act.
Even as the preshow went on with no appearance of Swift, her fans were still holding out hope she was going to make a surprise appearance.
There were apparently even some murmurings in the audience that Swift was in the building.
Meanwhile, others were enjoying the break from the self-described "overexposed" star.
The good news for Swift's fans is that there is a good chance she will be seated front and center come the 2017 VMAs. Despite claims from the label head that Swift won't release an album this fall — breaking her every other year cycle — fans are holding out hope Swift will drop a surprise album in the coming months. Based on how successful her last offerings have proven to be at the VMAs, that could mean she'll add some new Moonmen to her collection come next August.