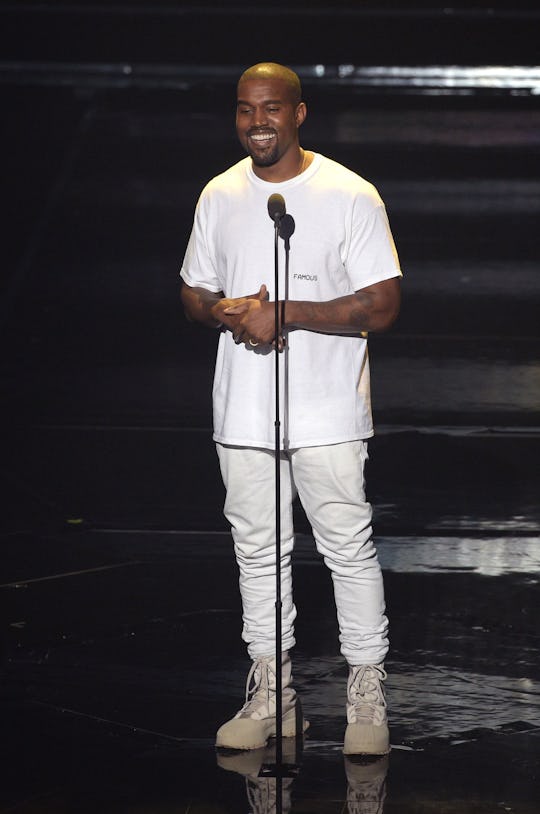 Jason Kempin/Getty Images Entertainment/Getty Images
Kanye West Premieres "Fade" At The VMAs, & Twitter Has A Lot To Say About It
For Kanye West's four minutes at the VMAs Sunday night, we all expected something totally outrageous and unpredictable, because that's who West is and also why we love him. Then Kanye West premiered "Fade" at the VMAs, and exceeded everyone's expectations. Whether that's a good thing is kind of subjective though, because being really good can often bleed over into being a little strange and off your rocker. And we all know that West is no stranger to either of the extremes.
The music video for "Fade" starred Teyana Taylor, a singer signed to West's label, GOOD Music, but she doesn't seem to be doing any singing in the video. Instead, she's showcasing her workout skills, which qualify as serious fitness goals (and really just confidence goals, since she's mostly naked in the video). And at first, the video is OK for the most part, with "Fade" playing while Taylor (can we talk about the fact that he used someone with that name to star in his latest video though?) dances and writhes around a gym placed in the middle of what looks like a high school gymnasium. But, because this is a Kanye West music video after all, things have to get weird fast.
But West didn't get to where he is today without doing some weird and unpredictable things that get him the kind of attention he apparently craves. And in this case, Twitter has been generous with both praise and questions that involve "WTF." Which, again, is understandable, because West's video for "Fade" raises a lot of questions.
West is obviously considered a visionary to his millions of fans, though, so along with the questions of what the random shower sex scene in the middle of the music video for "Fade" was or why the end of the video saw Taylor turned into a lioness, there are plenty of fans on Twitter loving everything about West's latest video.
West had four minutes to do whatever he wanted at the VMAs, and he not only took the opportunity to give a speech about himself and his character and a few other obviously on the fly, unrehearsed things, but he premiered his music video for "Fade" at the VMAs and even for the fans who loved it, he elicited some confusion. Like what was with all of those weird sheep at the end? Or Taylor turning into a lion type of animal creature? But West's haters just used it as more Twitter fuel to call him out.
The important thing to note, though, is that Kanye West did not waste those four minutes he was given at the VMAs.