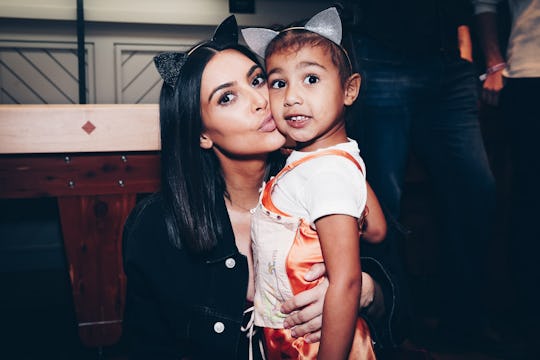 Handout/Getty Images Entertainment/Getty Images
North West's Version Of Drake's "In My Feelings" Will Melt Your Whole Heart
Kanye West and Drake may not have always been on the best of terms, but a week after West issued a public apology to the rapper for "negative energy" stemming from his involvement in producing Pusha T's latest album, Kanye West shared a clip of North singing "In My Feelings" on Instagram, and it looks like he's serious about burying the hatchet. And honestly, it was pretty genius move: in the clip, 5-year-old North belted out a verse from the song while strapped into her car seat, and the moment is so adorably pure that it's hard to think that anyone could still hold a grudge after watching it.
Like pretty much everyone else on the planet, North — who is basically Kim Kardashian's mini-me in the clip — is obviously a big fan of the Drake hit, and her musical tribute seems to be proof that any professional beef that might have existed between her dad and Drizzy didn't affect their at-home playlist. In West's Instagram video, North proudly sang a slightly-garbled kid version of, "Kiki, do you love me?/Are you riding?/Say you'll never ever leave from beside me/'Cause I want ya, and I need ya/ And I'm down for you," and it's pretty much the sweetest rendition of the "In My Feelings challenge" you'll ever see.
Though West was clearly in peak "proud dad" form when he filmed the clip, the fact that he opted to share it on Instagram seems to be a sign that he was doubling down on his earlier apology, which he sent out in a series of tweets on Sept. 5. West wrote that he was "sending good energy and love to Drake and family and crew," and apologized in a follow-up tweet for " stepping on [Drake's] release date." He also expressed regret for supporting an album that took swipes at the rapper — and ultimately led to some biting back-and-forth diss tracks between Pusha T and Drake, which ultimately exposed the fact that Drake secretly fathered a child with Sophie Brussaux.
Though West did still say that he "[understood] Pusha's issues as a man," and that he loved the rapper, he emphasized that he "did not have any conversations about [Drake's] child," with Pusha T, and the dad-of-three also wrote, "I don't play with the idea of people's children."
But though North's video seems to take on additional significance in light of her father's feud, the truth is that, if nothing else, it's really just proof that West and Kardashian's first-born is probably destined for eventual world domination:
In fact, it's not even the first time that young North has shown the world her singing skills. In June, West shared a video clip of his daughter singing his own track, "No Mistakes," according to People, and, well, it was similarly heart-melting and amazing. Dressed in Shimmer & Shine pajamas, and, once again, holding a drink in the backseat of a car, North belted out her dad's song for the camera:
Unsurprisingly, the internet was *totally* here for it. Though West seems to have deleted his original tweet, the video clearly earned lots of love from his followers, who thought North's rendition was pretty much the cutest thing ever:
Even if West weren't trying to mend fences with Drake though, it's pretty clear that "In My Feelings" is basically an irresistible bop that kids can't help but love. And while North may have only had the opportunity to show off her vocal skills in the clip, lots of other children have make a point to showcase their amazing Shiggy-inspired dance moves:
There's no word yet on whether Drake has seen West's apology tweets, or whether he agrees with the rest of the world that North West is the cutest 5 year old on the planet. But hopefully West still intends to share more adorable videos of his daughter singing, regardless of the status of his celeb feud.