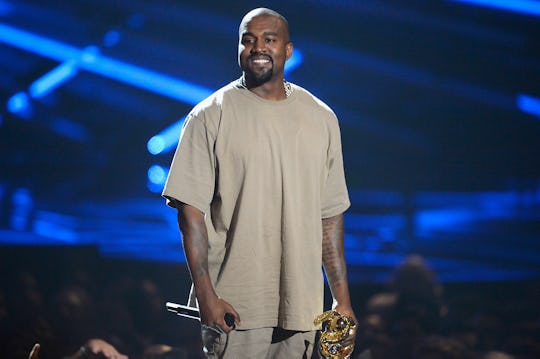 Kevork Djansezian/Getty Images
Kanye West Tweets About Bill Cosby & Causes An Uproar, Because Kanye Is Kanye
Twitter is a place we can all turn to for great Super Bowl GIFs, breaking news, and, of course, to find out what Kanye thinks about the world. And Kanye never disappoints. On Tuesday, Kanye West tweeted that Bill Cosby was innocent and the Internet went wild.
West, seemingly out of nowhere, tweeted on Tuesday, "BILL COSBY INNOCENT !!!!!!!!!!!" Capslock and excessive exclamation point usage are all his, for the record. There's no real precedent for the rapper's outpouring of support for Cosby, who allegedly drugged and raped over 50 women over the course of his career.
In his recent single "Facts," Kanye does mention the comedian, saying, "Do anybody feel bad for Bill Cosby?" Apparently Kanye does. But let's just put aside the actual facts and actual accusations against Cosby and remind ourselves that West has a lot to say on Twitter. And it often does not make much sense. (Let's put it this way: If Cher and Kanye's Twitter account had a child, it would be "puppymonkeybaby.")
Just before tweeting his support for Cosby, the rapper and designer tweeted to Michael Jordan. "I'm sorry Michael Jordan I love and respect you," Kanye wrote. "My beef was with Mark Parker. I respect you so much!" This, of course, was in response to a tweet he sent about Kylie Jenner not entering into a contract with Puma and sticking with Yeezy.
In between those, which were a mere three hours apart, Kanye tweeted a USA Today article about him being the greatest artist of our century. "Now you know," he commented. Kanye, we know. We hear you. But let's just all get together and be real about this: Kanye's tweets read like the late night drunk texts of a 24-year-old in the back of an Uber who didn't get into the club with her friends. I have nothing but respect for the man, his music, and his sneaks (yes, I own a pair, by the way), but come on. What is he talking about? It's real talk mixed with jibberish. Give us some context.
Someone needs to take control of those texting thumbs. Sometimes, he tweets about his rounds making music and clothes. Or he takes adorable pictures of his family life. But then, out of nowhere, the exclamation points and all- caps abound.
Last month, Kanye and Wiz Khalifa got into an epic Twitter feud that even Amber Rose jumped in on. But here's the thing — that all happened because Kanye misread a Khalifa tweet and went at it. Kind of like when your S.O. doesn't respond right away, and you lost your keys, and it's starting to rain, and you lose your cool for no reason. There's no judgement here. We've all been there. We just aren't Kanye, so luckily, our ranty posts can be deleted within the hour.
Even considering all of that, it looks like Kanye thinks that Bill Cosby is innocent, and that's pretty much the icing on an already disastrous cake. Tuesday was a wild day.
Everyone is entitled to their opinions. But I suppose it is important to keep things in perspective. After his show of support for Cosby, he tweeted a pic of the LeBron Nike's, a screenshot of a text message inviting both Phil Jackson and Louis Farrakhan to a probably-really-awesome party, and an image of his wife, Kim Kardashian, shedding a tear at a Puma logo. All within a single hour. I'm not saying he doesn't support Bill Cosby. I'm just saying we should maybe let this one slide.
The Kanye Twitter code is hard to crack. Let's just let the guy vent if he needs to.