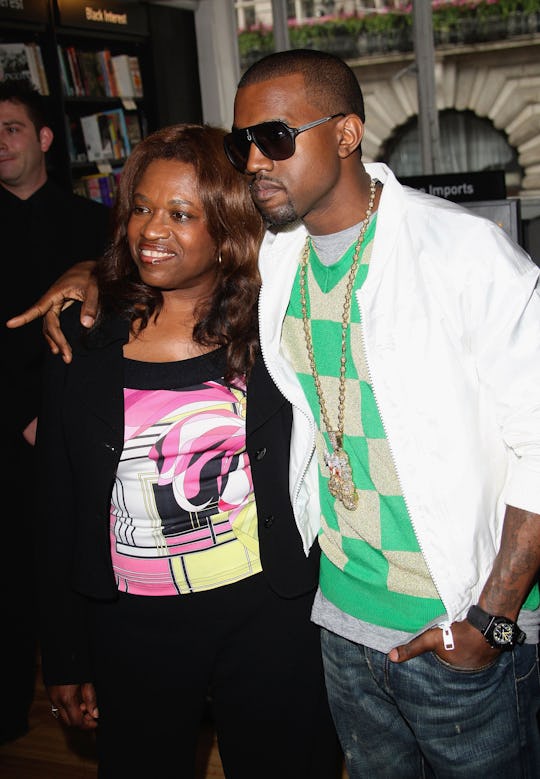 MJ Kim/Getty Images Entertainment/Getty Images
Kanye West's Touching Tribute To His Mom Donda Makes It Clear He Still Misses Her
Kanye West is an enigma at the best of times. Whether he's spouting vitriol on Twitter about Bill Cosby, swirling up a feud with Taylor Swift, or referring to himself as the next POTUS, he's not happy unless he's getting under people's skin. Or so it seems, anyways. But there is one area of his life where West is clearly a tenderhearted, sensitive guy. And Kanye's tribute to his late mom Donda her birthday said to fans that he was always, first and foremost, a boy who loved his mom.
West's mother Donda died in 2007 from complications that happened during elective plastic surgery (Donda West had a breast reduction in November of 2007 and died the next day). She would have turned 67 on Tuesday. Since her death, West has gotten married (to Kim Kardashian, in case you didn't already know) and had two children. West's son, Saint, is still just a baby and his daughter North (who has been nicknamed Nori) is a precocious little 3-year-old. When West shared a picture of him posing with his mom on social media accompanied by a sweet little message from daughter Nori, it was a reminder that not only is Donda West missing out on watching her famous son, but she never got to see her grandchildren.
And if that doesn't just about break your heart, I truly don't know what will.
West reportedly has always blamed himself for his mother's death, and carries the guilt with him to this day. West paid for the elective plastic surgery that reportedly cost his mother her life. When he was asked in an interview with Q Magazine last year about the hardest sacrifice he has made for his success, he said he had one regret.
"My mom."
"If I had never moved to L.A. she'd be alive. I don't want to go far into it because it will bring me to tears."
Donda West was an English professor and scholar who wrote a book about raising Kanye called Raising Kanye: Life Lessons From The Mother Of A Hip-Hop Superstar. She was the chairwoman of Chicago State University's English department. While most people remember Donda West as the mother of Kanye, she was actually a Fulbright scholar and a teacher for 31 years. Donda raised her son on her own from the time he was 3 years old, and their relationship was a powerful motivator in Kanye's life and music.
Not only has he mentioned his mother on every one of his albums, he wrote "Hey Mama" as a tribute to her, according to MTV. Here are some of the lyrics:
Hey Mama, I wanna scream so loud for you/ 'Cause I'm so proud of you/ Let me tell you what I'm about to do … I appreciate what you allowed for me, I just want you to be proud of me.
And while Kanye has had his moments of stirring up trouble, one thing is for certain: he is a family man. He clearly loves his children, and it is a terrible thing that he hasn't been able to share them with his mother. In his soon-to-be-released video game Only One, West follows his mother's path to heaven and has her speaking to his daughter.
If that's not a man who misses his mom, I don't know what is.