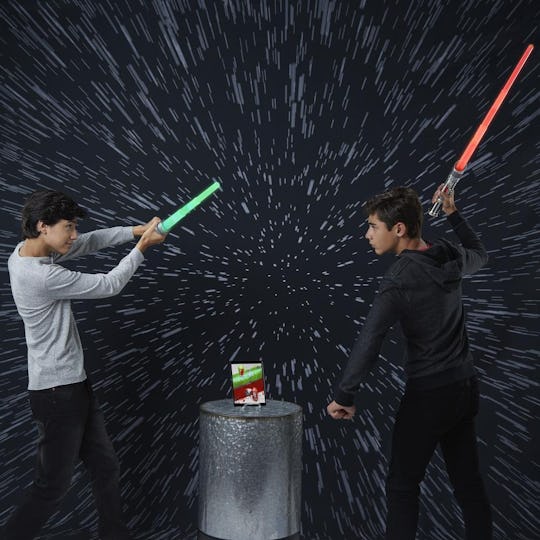 Hasbro
The KAPi 2020 Toy Awards Prove That Classic Play & Technology Can Work Together
The year 2020 just sounds like the future Marty McFly showed the world. Everyone's already well beyond the idea of flying cars and hoverboards as their main mode transportation, but the Kids at Play Interactive (KAPi) 2020 Toy Awards prove that technology and science are exploding in every facet of life, including your kids' playrooms.
I know, the holidays already have you swamped in toys, but this list, which includes all-new 2019 toys, features apps and online video games, robots, digital content, and play experiences that bridge the gap between imaginative physical play and screens. More than 500 children's technology products were evaluated and reviewed for the 12th Annual KAPi Awards, of which Romper is a proud media sponsor. Organizer and producer Tonda Bunge Sellers tells Romper that when it comes to curating this list and selecting winners, the KAPi awards "recognize excellence in design and innovation." And this year, that means a lot of "tech-fluid play," according to Sellers.
"We now have Generation Alpha, a generation of kids that have never know life BI (Before Internet). They are as fluid with shopping and e-commerce and to use of social media as they are with Little League and ballet lessons," she tells Romper. "We look for toys that inspire play, teach, and entertain supporting their family lives. Tech has become a cornerstone of new possibilities from birth to the end of life."
She also says that because tech works its magic with every young learner, kids are now able to move "seamlessly between the world of tech and the physical world, and each of the KAPi winners captures this trend."
But don't let all the tech jargon make you think your kids are just mindlessly tinkering with toys that need your assistance. Sellers says this list is full of "strong play patterns, and simplicity for kids to pick up the toy and play without instructions or parental nudging." It's the "magic of childlike innocence," but tech adds another layer to extend the play.
Creator of the KAPi awards Robin Raskin, who is also the founder of Living In Digital Times, agrees, telling Romper, "The best products that incorporate high tech into kids play are exploratory, meaning that the child directs the process, whether it's creating something, discovering something, or immersing themselves in something. Our judges are all play specialists: educators, UI experts, industry analysts, and very familiar with child development."
There seems to be a big up-tick in trying to get "back to basic" toys, but Raskin says that these tech-toys don't have to feel intimidating or any different than a non-tech toy. "There's a real move away from staring at screens," she says. "Winners included the lightsaber sword, a coding critters toy and a play 'ring' that all use tech, but not in the traditional 'playing in front of a monitor' play pattern. Play is more based on traditional play patterns that use technology to enhance the play."
And because the price points of tech toys have dropped, Raskin says they've become much more affordable and the market has changed, so robots aren't $500 like they were just a few years ago.
According to the producers, the 2020 Awards were evaluated by an independent jury of industry and editorial experts under the direction of Warren Buckleitner, Editor of Children's Technology Review, who "looked for products that raised the bar for innovation and design excellence." An awards ceremony will be held at CES in Las Vegas on January 9th at the Kids and Family Stage at the Venetian.
Basically, this toy list keeps all the classic things a family loves in a toy — imagination, parent-free play, and innovation — but with an added layer of tech to bring everyone into the new decade.