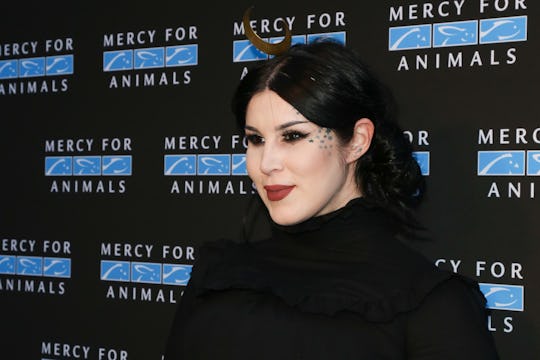 Paul Archuleta/Getty Images Entertainment/Getty Images
Kat Von D Gives Birth To Son, Leafar Von D Reyes
Makeup maven and celebrity tattoo artist, Kat Von D is known for her cool exterior and always seeming put together. But fans are quickly going to see a different side to the celebrity, because she is now a mom! On Sunday, it was announced that Kat Von D gave birth to a baby boy and her announcement on Instagram about the birth is so sweet. It really could not be any more adorable.
Von D and husband, Leafar Seyer, announced the arrival of their son — Leafar Von D Reyes — on Instagram on Sunday, according to People, but it's just a little unclear when she gave birth to her son.
"Meet our beautiful baby boy, Leafar Von D Reyes," Von D wrote in the caption of her Instagram post. "Thank you to all our beloved friends and family, fans and followers, for your patience in announcing his long awaited arrival!"
In the photo, Seyer can be seen holding little Leafar (wearing all black, of course), against an old fashioned stroller. Leafar is, of course, named after his father, who was born Rafael Reyes, according to Noisey. The name Leafar is the name Rafael spelled backwards — and you can see the resemblance between Seyer and his son in Leafar's birth announcement photo. They really do look so much alike.
The entire thing is perfect for Von D, and judging by the caption, she could not be any happier than to finally be able to hold her son in her arms.
The wait was well worth it.
And Von D's followers are super excited for the couple.
"He's so cool, I bet he even cries black," one commenter wrote. "Congratulations!!"
"I'm literally tearing up," one commenter stated. "Beauty and magic abounds."
"I'm so happy for you!!," another commenter added. "The first few months are precious, enjoy the hell out of it."
Needless to say, Von D plans on enjoying the hell out of it. In her Instagram announcement, she explained that she is going to take some time away from social media and work to focus on raising Leafar. Von D wrote:
To be honest, my husband and I want to take the next 40 days [the fourth trimester] to focus on the baby and our amazing relationship transitioning into amazing parenthood — so, please excuse us if we're not on here as much for a little while.
What is the fourth trimester? It's the term used to describe the baby's first three months of life, according to Baby Center. The fourth trimester is just as important to the baby's growth and development as their first three — it's the period when they're adjusting to new sights, smells, and sensations outside of the womb. It's not only a huge adjustment for moms, but for the baby, too.
So, it makes sense why Von D would want to take the next three months to ensure that she is doing everything she can for her son and his growth.
But after Von D's "fourth trimester" is over, it's unclear if she will share her birth story with her fans and followers — because her birth plan was something she was vocal about while she was pregnant. In September, during an appearance on the Informed Pregnancy Podcast with Dr. Elliot Berlin, Von D announced that she was going to use a midwife because she didn't enjoy her experience with doctors, according to People. In that same month, Von D told Us Weekly that she was looking forward to having an all natural delivery with her son.
"We're excited to have a natural, unmedicated, drug-free home birth in water," Von D said.
Although it is unclear if Leafar's birth went according to plan, one thing is certain — Von D could not be any happier to finally be a mom. And once the fourth trimester is over, hopefully fans find out a little bit more about her life as a mom.
This first-time mom wants to have a home birth, but is she ready? Watch how a doula supports a military mom who's determined to have a home birth in Episode One of Romper's Doula Diaries, Season Two, below. Visit Bustle Digital Group's YouTube page for the next three episodes, launching every Monday starting November 26.