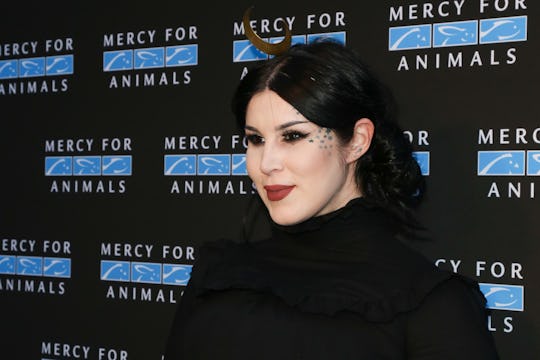 Paul Archuleta/Getty Images Entertainment/Getty Images
Kat Von D Shared How A Stranger Helped Her Through Her Breastfeeding Struggles
Kat Von D and her husband, Leafar Sayer, welcomed their baby boy earlier this month — little Leafar Von D Reyes. As so many moms know, those first few days can feel simultaneously like they go by in a flash and last for centuries... everything changes so much. And in some cases, the plans you made throughout your pregnancy just aren't working out. It can feel incredibly overwhelming, especially when things are a struggle, but this is when you find out what you're really made of as a mom. When Kat Von D opened up about her breastfeeding struggles, she showed that she's willing to roll with the ever-changing landscape of parenting. Even when things aren't going her way.
The tattoo artist and makeup mogul took to Instagram on Thursday to share a sweet video of her baby boy breastfeeding. It's one of those shots that looks idyllic and peaceful, but maybe doesn't tell the whole story of the journey behind it. It's the kind of IG post that could make a mom struggling to breastfeed feel a little twinge of something... but fortunately Von D was generous enough to share the story behind the sweet video. And make it clear that breastfeeding did not come as easily to her as it might seem.
"During the first two days of Leafar's life, his blood sugar count had been low, and as much as I had committed myself to strictly breastfeed, my milk hadn't come in yet," she shared on Instagram. "The pediatrician suggested asking around to see if any friends might have a bit of extra milk they could donate – and if not, I'd have to consider supplementing with formula – something we personally did not want to do."
Instead of feeling defeated by the fact that her milk hadn't come in yet, Von D was galvanized into action to make sure her son could thrive they way she had envisioned. She wrote in the same post that she reached out to her midwife to find out if there was anyone who might be willing to share some breast milk, and was ultimately connected with someone who "without even knowing me, and without question, stepped up and donated a few ounces of breast milk to us in the middle of the night."
Breast milk donation and co-nursing are at once relatively new concepts and have also been around for hundreds of years. Centuries ago, women employed wet nurses to help them feed their babies, and now women in the United States have access to more than 27 non-profit human milk banks across the country, according to What To Expect.
While these milk banks are generally used for babies who are born premature or have a medical condition, you can also ask your doctor or midwife to recommend someone who would be willing to donate breast milk if you, like Kat Von D, are waiting for your milk to come in.
It's a pretty amazing system, actually, the sort of thing that reminds a new mom that she's not alone. As Von D noted in her Instagram post, motherhood is also a "sisterhood."
She concluded her post: "Needless to say, Leafar's levels boosted, and we are now happily breastfeeding at home. Can't thank @mattersofmotherhood enough for getting us through these rough nights with your donation. This is true community. True sisterhood. True kindness."
As she showed in her sweet video, Von D is now able to breastfeed her baby boy and continue her journey as a mom exactly as she planned, all because of the generosity of one sweet stranger. And if that doesn't make you feel like there's something exactly right about this world, I don't know what will.
This first-time mom wants to have a home birth, but is she ready? Watch how a doula supports a military mom who's determined to have a home birth in Episode One of Romper's Doula Diaries, Season Two, below. Visit Bustle Digital Group's YouTube page for the next three episodes, launching Mondays in December.