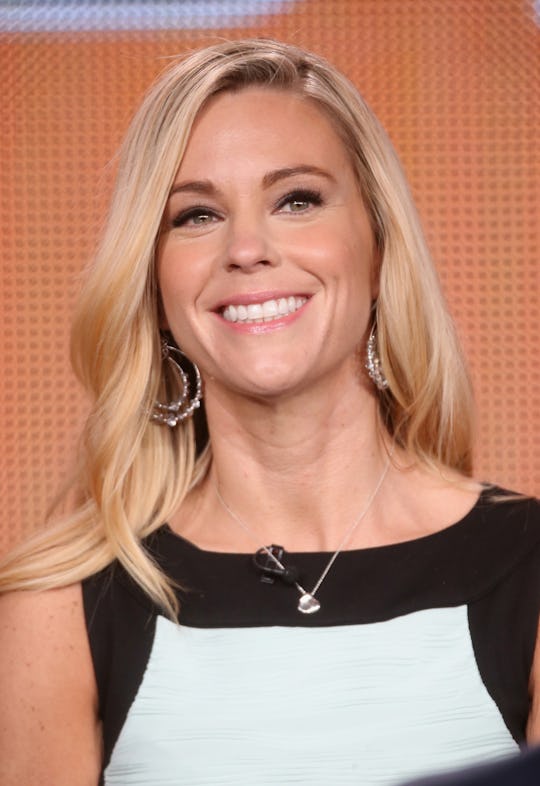 Frederick M. Brown/Getty Images Entertainment/Getty Images
Kate Gosselin Talks About Getting Help For Her Son & Her Honesty Is Important
There was a time when Kate Gosselin and her eight adorable kids were the talk of the town. They were the stars of TLC's massive hit reality series Jon and Kate Plus Eight, which eventually became (rather famously) Kate Plus Eight for a short-lived period of time. People were tough on Kate, who clearly struggled with the pressures of fame as her children got older, and the mom-judgment was pretty much off-the-charts at every turn. It's been awhile since we've checked in with the Gosselins, and now Kate Gosselin is talking about getting help for her son Collin by sending him away to school. Here's hoping she doesn't get slammed with a fresh new wave of finger-pointing and tongue-wagging, because I actually find her honesty about the struggle incredibly refreshing.
Believe it or not, the famous sextuplets (Collin, Alexis, Leah, Hanna, Joel, and Aaden) are now 12 years old. Their older twin sisters, Mady and Cara, are 16 years old. The family spoke with People magazine about their struggles with reality television fame, the acrimonious public divorce (Kate and husband Jon Gosselin divorced in 2009), and what life has been like for the past 10 years out of the spotlight. Gosselin also opened up about her son Collin, who she says suffers from a learning disability.
Gosselin told People that she had to make a difficult decision for Collin's future potential.
Collin has special needs.[There's] a fairly fluid diagnosis of what those needs are, but he needs to learn certain strategies to help him deal with things. This has been a struggle we've had for a long time and it's one I've dealt with on my own. I've felt very alone in this. By the same token, it's not something that has only impacted me or him – our entire family has been impacted.
According to Kate, Collin is enrolled in a program, "that is helping him learn the skills he needs to be the best him he can be. We miss him so much, so it's been hard because there is a huge hole in our family without him here. But it comforts us to know he's where he needs to be right now, and I can feel good about that."
So now, let's get ready for the onslaught. The social media trolls who will vilify Gosselin and tell her that she's an awful mother, that she's using her kids to get attention and that she's made the wrong decision for her son. Oh wait, it's already started.
It never ceases to amaze me, how many perfect parents spend their days trolling other parents on social media to tell them what a terrible job they're doing raising their kids. Drop it, guys. Gosselin is sharing an experience that many other parents probably share. She said herself that she has felt "alone" in this experience, and might need a few words of support.
Because it's hard letting your kid go, even if it's the best for them. As she told People:
When your kids go to college, do you miss them? Yes, but you reassure yourself that they are getting so much out of it. And that's the same sort of investment I feel like I've made Collin's future.
Stay strong, girl.