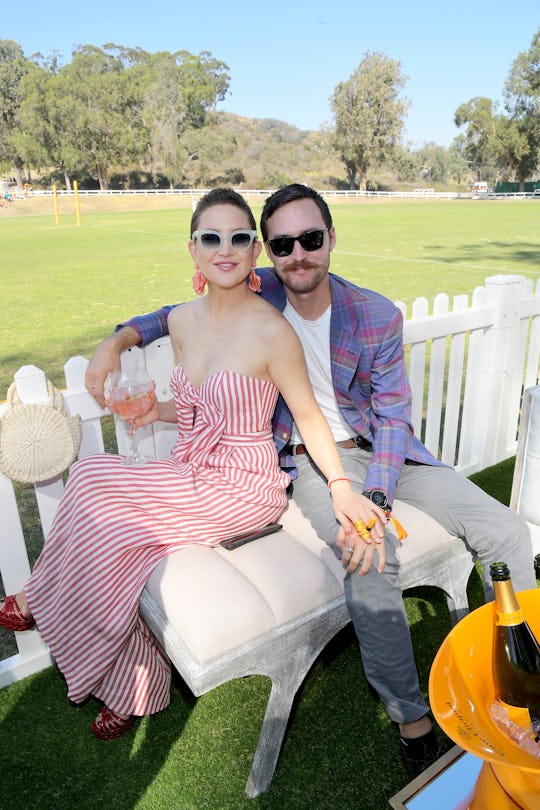 Charley Gallay/Getty Images Entertainment/Getty Images
Kate Hudson Gives A Sneak Peek Into Her Unborn Daughter's Nursery Prep
It won't be long now until actress Kate Hudson gives birth to her third child — a baby girl — with partner Danny Fujikawa, and as anyone who's ever been heavily-pregnant knows, there's nothing quite like an impending due date to throw a mama-to-be into full nesting mode. Case in point? Kate Hudson and Danny Fujikawa are prepping their daughter's nursery and sharing the process on Instagram, and it definitely looks like they're eagerly awaiting their newest family member's arrival.
Hudson has been documenting her pregnancy on social media ever since she first shared her baby news in a sweet Instagram back in April: at the time, the actress posted a video in which she, Fujikawa, and her two sons, 14-year-old Ryder, and 7-year-old Bingham, excitedly revealed the baby's sex by popping giant balloons filled with pink confetti. Since then, Hudson has also shared a number of sweet shots of her growing belly, her family "babymoon" in Italy, and even the extensive house renovation she and Fujikawa jumped into in the midst of it all. But in her most recent Instagram Story, Hudson posted clips of Fujikawa hard at work in their baby's nursery, and from the looks of it, he's *so* ready to be a dad.
In the first snap of the series, Hudson shared a pic of Fujikawa holding up a wallpaper sample against the baby's nursery wall. The pink floral print definitely looks stylish, but just to be sure, Hudson opted to crowdsource opinions from her 8.9 million Instagram followers by asking if they were "vibing?" along with a heart-eye emoji slider.
Although they may still be debating their choice of wallpaper, there does seem to be at least one nursery item the couple has definitively decided upon: the SNOO Smart Sleeper. Hudson shared a video clip showing off the $1,160 "responsive bassinet," which was created by The Happiest Baby on the Block author Dr. Harvey Karp, and combines white noise and motion to help boost infant sleep by "1+ hours a night." Joking that you "sort of like, strap the baby in," Hudson acknowledged that the high-tech bassinet was a pretty big departure from what was available the last time she had a newborn: she wrote, "oh the things that change in 7 years."
Hudson then shared a clip of Fujikawa trying (and failing) to get the bassinet to function, followed by a clip of the dad-to-be reading the SNOO manual (why are baby items always so complicated?). But while he may still be figuring out the ins and outs of his daughter's bassinet, he does appear to already have one thing down: in Hudson's final pic, she shared a snap of Fujikawa wearing a baby carrier, and wrote "I think someone's ready to go."
While it's certainly true that the market for baby gear may have changed a lot since Hudson's last go-around at new motherhood, there's also another major difference for her this time: she'll be welcoming a girl after having two sons, and it sounds like she's beyond thrilled to have a daughter on the way. In April, a source told Us Weekly that Hudson "wanted a girl more than anything," prior to getting pregnant, and that it was actually in part due to the close relationship she has with her 4-year-old niece, Rio.
But Hudson may not be the only one enamored with little Rio: earlier this year, Hudson's brother, Wyatt Russell, told People that while he thought that "in some part of every man's brain you're like, 'I'd love to have a little me,'" having the chance to bond with Hudson's niece made Fujikawa really look forward to the idea of having a daughter as well. Russell said, "when he met my brother's little girl Rio, who's the cutest thing in the entire world, she made him be like, 'Okay, I want a girl.' So they're really excited."
Since the final weeks of pregnancy can definitely feel kind of stressful, it makes total sense that Hudson would be eager to get her baby's nursery finished and ready to go. But judging by her Instagram, Hudson has been soaking up every minute of being pregnant in the meantime, and it looks like she and Fujikawa can hardly wait for their daughter to finally make their family a party of five.