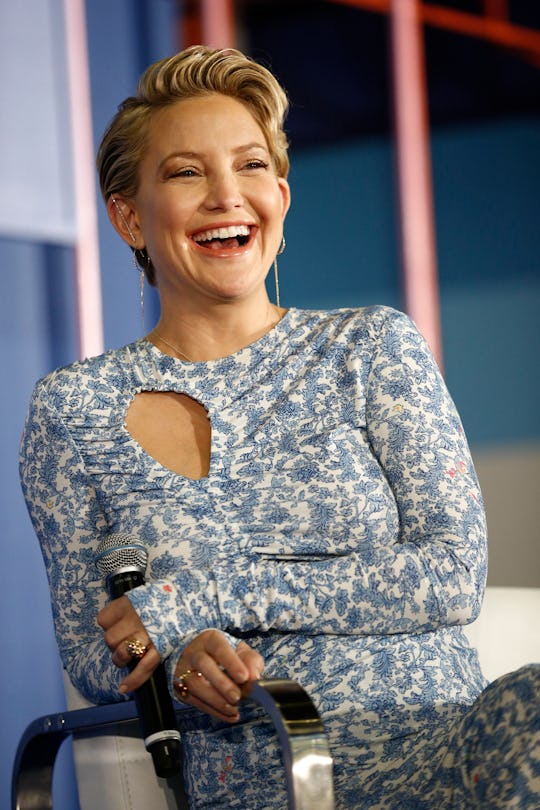 Brian Ach/Getty Images Entertainment/Getty Images
Congrats Are In Order! Kate Hudson Has Given Birth To A Baby Girl & Her Name Is SO Sweet
The big day has finally arrived. On Wednesday, actress Kate Hudson announced she gave birth on Oct. 2, and her fans are very pleased after they've waited months for the Hollywood darling to welcome her baby girl — and Hudson has obviously been anxiously awaiting the little girl's arrival, too. Hudson shared the news of her pregnancy back in April, and it's been a long spring and summer since fans and social media followers first got word that the newest member of her little family would be making her debut before the year was out.
Hudson's daughter, Rani (pronounced Ronnie), was born on Tuesday, Oct. 2, according to E! News. This is Hudson's first daughter, and the first child for her boyfriend, Danny Fujikawa, according to Harper's Bazaar.
Hudson already had two sons before welcoming little Rani — Ryder, whom she shares with ex-husband Chris Robinson, and Bingham, from her former relationship with Matt Bellamy, Women's Health reported. Ryder is 14 and Bingham is 6, which means they're both old enough to hopefully help their mama out while she recovers from giving birth to their little sister.
Hudson shared the news of her daughter's birth on Instagram on Wednesday afternoon with a simple caption: "She's here 💕," she wrote alongside a photo of her daughter's birthday.
Hudson first announced that she was expecting again in an Instagram post she made on April 6. She explained to her followers at that time that she had been somewhat absent from her usual social media presence because she had "never been more sick," and it was all thanks to her new pregnancy.
Hudson said that the first few months of her pregnancy with her daughter made up "the most sick first trimester of all my children." She then went on to tell her followers:
We have been trying to keep this pregnancy under the radar for as long as possible but I'm a poppin now! And it's too darn challenging to hide, and frankly hiding is more exhausting then just coming out with it! My kids, Danny, myself and the entire family are crazy excited! A little girl on the way 💕
So not only did Hudson's fans find out she was expecting again with that Instagram post, they also found out the baby was a girl — all in one social media update.
And it was a cute social media update at that; the post featured a sex reveal video announcement showing Hudson and what seemed to be several of her family members popping balloons that exploded into pink confetti and pink balloons, signifying the baby's expected sex.
A source who is reportedly "close to the expectant mother" told Us Weekly that Hudson was due in August, and that to prepare, she took a sort of maternity leave. They said, according to Us Weekly, "They are on vacation now, and she has taken off the rest of the summer. She doesn't have any work commitments on her schedule as of now." So if it's seemed like Hudson has been showing up at fewer Hollywood events or not doing as many film projects in the past few months, that might be why.
With the addition of this newest baby, Hudson has given her beloved actress mom, Goldie Hawn, her sixth grandchild with long-time partner, Kurt Russell. They share four children: Boston Russell, from Kurt's previous marriage, Kate and her brother Oliver, from Goldie's previous marriage to Bill Hudson, and finally their son, Wyatt, who was born in 1986, according to POPSUGAR.
If all the social media updates Hudson has provided throughout her pregnancy and all the photos available of the whole big, happy Hollywood family are to be believed, little Rani is joining a family that was beyond excited to meet her.