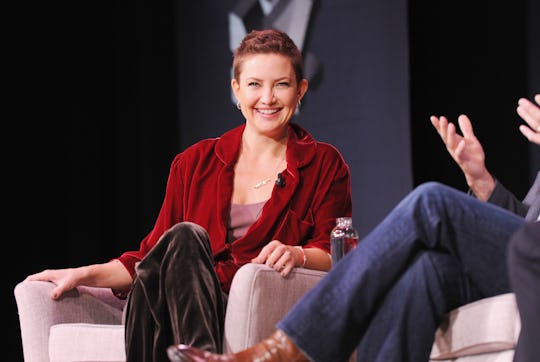 Craig Barritt/Getty Images Entertainment/Getty Images
Kate Hudson Opened Up About Her First Trimester In A Hilarious Instagram Post
Kate Hudson surprised everyone last week when she not only announced that she was expecting her third child but that she had been pregnant for a few months was expecting a girl. But because she announced her pregnancy this late, people missed out on her sharing all of those special moments of the early part of her pregnancy. But now that the cat is out of the bag (thank goodness) Hudson is opening up about her first trimester and it could not be any funnier or more relatable.
OK — so she didn't exactly open up as much as people would probably have liked. But she did reveal more information about her third pregnancy than she ever did before, so it is a pretty nice update nonetheless. Especially since it's the first time she has said anything about her pregnancy since she first announced that she was expecting a baby girl with her boyfriend, Danny Fujikawa last week.
In her most recent Instagram post, Hudson posed for a boomerang in her workout clothing line, Fabletics. In the boomerang, Hudson expertly balances on a wheel and a yoga mat wearing the cutest mint green outfit. No one would expect anything from the photo — it's just another photo of Hudson looking fabulous. But, in the photo's caption, Hudson revealed that there was something special going on during that photo shoot — she was definitely pregnant and well into her first trimester at the time.
And as it turns out, her first trimester wasn't exactly the easiest time for her. "All I wanted was a bed and a bucket and all I got was a wheel...," Hudson captioned the photo. That doesn't sound like the most even exchange to me, but it's a good thing that Hudson maintained a sense of humor about it.
But what Hudson's caption does reveal is two things — her first trimester of pregnancy required her to get her rest and must have involved quite a bit of morning sickness (hence the bucket to presumably throw up in). Her first trimester honestly sounds like it was a little bit hard on her, but you wouldn't be able to tell that she was pregnant or felt sick in the boomerang.
It's not like Hudson doesn't have experience with being pregnant. She is the mother of two sons from two previous relationships — 14-year-old Ryder Robinson and 6-year-old Bingham Bellamy, according to USA Today. But as they say, every pregnancy is different and this third pregnancy for Hudson is no exception to that. In her announcement post on Instagram Hudson did reveal that this pregnancy was a little different from her previous ones, according to CNN. "...I have never been more sick!" Hudson revealed. "It was the most sick first trimester of all my children." Hudson also added in the photo's caption that trying to stay active on Instagram didn't help her pregnancy. Hudson said:
Boomerangs have made me nauseous, Superzoom is an easy way to have my head in the toilet, food instagrams make me queazy, and thinking too much about Insta stories have made me more exhausted than I already have been.
But regardless of how sick her daughter has made her feel in the process, Hudson has stated in the past that she loves being pregnant, if only for the weight she was able to gain. During a 2004 interview with Blackfilm, according to People, shortly after giving birth to her first son, Hudson revealed that she had gained 60 pounds and was proud of it. "Why do I need to watch my weight when I'm pregnant?," Hudson asked, according to People. "I could eat whatever the hell I want to eat." Hudson reiterated the fact that she loved her pregnancy weight gain during an appearance on the Netflix talk show, Chelsea, last year, according to FitPregnancy. "I loved it," Hudson told the show's host, Chelsea Handler. "I relished in that moment."
Hopefully Hudson will reveal more details like these throughout the course of this pregnancy. Although she has yet to announce a due date (or reveal much else) during this third pregnancy, this casual update on Instagram can give fans hope that there will be more posts like these to come.