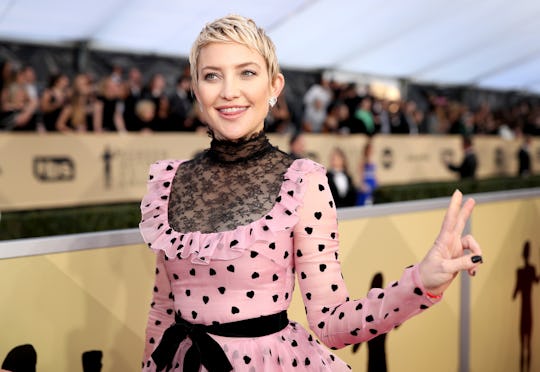 Christopher Polk/Getty Images Entertainment/Getty Images
Kate Hudson Is Officially In The "Home Stretch" Of Pregnancy With Baby No. 3 — PHOTO
If you've ever been in the last trimester of your pregnancy during the heat of the summer, you know. You just know. Everyone is out there running around and enjoying life in the sun, and you are carrying around this heavy internal heater that eats all of your food and sucks all of your energy. The best thing to do is just find somewhere cool to plant yourself, eat, and maybe watch television. This is apparently true even if you're a fitness guru like Kate Hudson, whose latest pregnancy update is all about getting lazy in the "home stretch."
The actress and Fabletics mogul has been sharing loads of satisfying pictures throughout her pregnancy with her third baby-to-be, whom she's expecting with musician boyfriend Danny Fujikawa. The couple are expecting a little girl in the coming weeks, a first for them together. Hudson already has two sons from previous relationships; 14-year-old Ryder and 7-year-old Bingham. This time around, the How To Lose A Guy In 10 Days actress has been fully enjoying a bunch of relatively new traditions that pregnant women experience; she and Fujikawa went on a luxurious babymoon in Italy, she has been sharing some zen images of her pregnant yoga practice, and even had the chance to surprise us all with a baby sex reveal video back in April on Instagram.
These days, however, she's really just interested in chilling out and waiting out these last few weeks, it seems.
Now to be fair, Hudson made it clear in her Instagram post that she's actually working quite hard these days. Which makes sense, considering her Fabletics line of athletic wear is hugely popular. But when she shared a picture of herself in bed, nestled on her side with a bowl of cubed watermelon and a little CNN History of Comedy on the tube, she admitted that's where she really wants to be:
Working all day today and realizing that I should probably be sharing some work life because that's a huge part of my day to day but... I'm too pregnant and too lazy so here's a picture of what I wish I was doing all day!
Just to prove that she is still working, here's the Almost Famous actress on Aug. 1 modeling a bra and yoga pants from Fabletics.
In the newest pregnancy picture, Hudson doesn't look like she's wearing any clothes. Which wouldn't bother most people since the human body is just a regular thing, but it has been known to bother some people. And Hudson, wise woman as ever, wanted to make sure fans knew that she was, in fact, wearing clothes but that she is apparently "so huge you can't see my shorts."
(Yes, I am clothed here, I'm just so huge you can't see my shorts...I can't see them either 🤷‍♀️.) #FruityCravings 🍉 #HomeStretch
A few pregnant women took to Hudson's Instagram wall to say they're totally feeling that home stretch vibe themselves.
"Same... 9.5 months pregnant currently laying in bed eating PB&J," one wrote.
Another chimed in, "I'm 35 weeks and I'm feeling so lazy!"
One more said, "Know how you feel! I have forgotten what my feet look like!! Been a while since I have seen mine. Lol."
As this is her third pregnancy, one can only assume that Hudson is pretty well versed in this last home stretch. Plus, she knows what's coming for her. A sweet little baby, yes, but also night feedings, diapers, and sometimes a little inexplicable crying. Such is the life of a new mom.
So here's hoping she soaks up a little lounge time in the last short, hot weeks of her pregnancy. Hangs out in bed, eats all the things, and naps in front of the television. It's pretty much the best part of being pregnant.