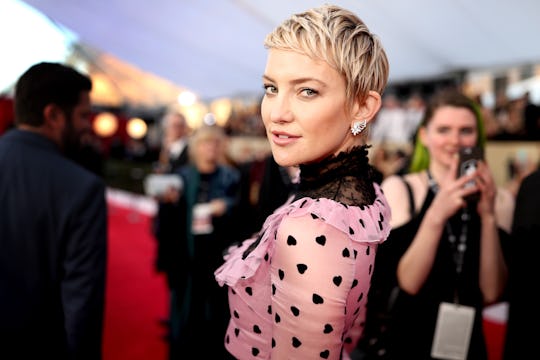 Christopher Polk/Getty Images Entertainment/Getty Images
Kate Hudson's Newest Video Of Baby Rani & Danny Fujikawa Is The Sweetest
It's hard to believe that it has only been just one week since Kate Hudson welcomed her daughter, Rani Rose Fujikawa, with boyfriend, Dani Fujikawa, into the world — and what a week it has been. Hudson has been super invested in her new role as a mom of three, and that could not be any more clear from her recent Instagram posts. People need to see Kate Hudson's newest video of baby Rani and Danny Fujikawa because it is guaranteed to melt so many hearts out there.
On Oct. 2, Hudson gave birth to her first daughter (and third child) — a daughter named Rani (pronounced Ron-nie), according to CNN. This birth was long awaited, especially since Hudson announced that she was expecting her third child back in April, according to People. Although fans had to wait a while to finally meet her newest addition, the wait was well worth it. In the past few days, Hudson has been posting so many fun and exciting updates about her daughter on Instagram — but her newest video post on Friday might be one of her best, yet.
In the video, Fujikawa can be seen for the first time, holding his daughter, according to Entertainment Tonight, and both of them look so in love with each other. Rani is definitely a daddy's girl in the making.
Even Hudson seems to think so. "Kind, beautiful man, your pure love is such a gift," Hudson wrote in the caption of the photo, adding #daddy'sgirl just to prove her point. But fans didn't need to read Hudson's caption to know that Rani is a daddy's girl. Just by watching the video, you can tell that Rani has such a special connection with her dad — and fans can see that, too, taking to the comments of the photo to share their thoughts with Hudson.
"This is shockingly beautiful," one commenter wrote.
"I'm about to be a dad for the first time very soon and this video caught me right in my very excitable heart," another commenter added.
"This is how all children should be loved," a commenter stated.
And they're so right. It's incredible that one video can communicate so much passion, but that's exactly what Hudson and Fujikawa were able to accomplish. But since Hudson has been in quite a bit of films, it makes sense that she would be just as good at directing her boyfriend.
But it should be expected that Fujikawa and Rani have such a special bond. Rani was named after Fujikawa's late father, Ron Fujikawa, an attorney and community leader, according to People, who died in 2012. With this kind of thing connecting her to her father, it makes sense that the two would already be so in love with each other.
This new video of Rani and Fujikawa is just one of Hudson's super sweet new Instagram posts of her daughter, which she has posted throughout the past week.
On Thursday, Hudson posted a simple photo of her holding Rani, with her arm resting on her mother's shoulder. The photo didn't show much, but revealed so much about Hudson as a mother — it's clear that she loving having a baby in her life again, and which was highlighted in the caption of the picture. "The early morning calm #babybubble," Hudson captioned the photo.
And just one day after giving birth, Hudson posted the first photo of her daughter, ever, much to the delight of fans. "Our little rosebud," Hudson wrote in the caption of the photo.
The best thing about Hudson's posts since Rani's birth is that they're super frequent — which means that Hudson won't be keeping her daughter away from the public any time soon.
This is a good thing, because it means getting more super cute Instagram videos, just like the one that Hudson posted on Friday.