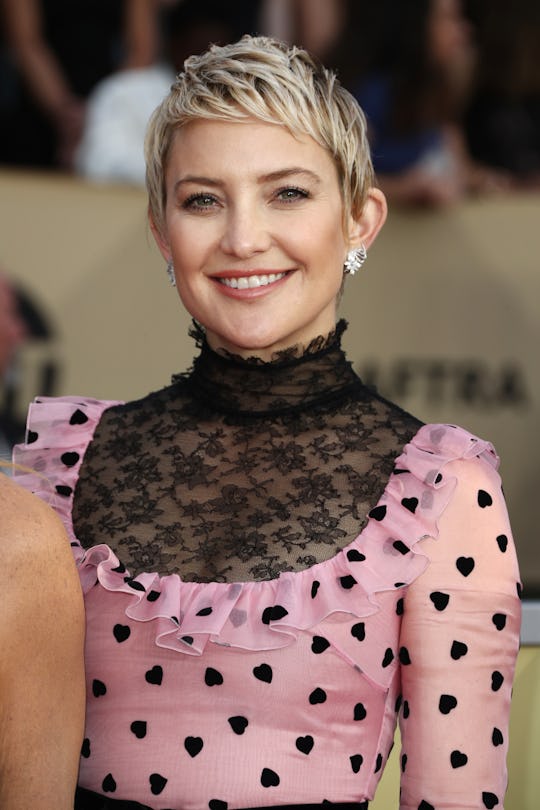 Frederick M. Brown/Getty Images Entertainment/Getty Images
Kate Hudson's Stroller Choice For Baby Rani Shows She's A Practical Mama
She's an award-winning movie star and athletic-wear designer, but, based on some detective work, Kate Hudson's stroller for her newborn daughter Rani Rose seems to prove she's the practical, experienced type of mom. Hudson's been Instagramming a storm since baby Rani Rose was born Oct. 2, her first baby with partner Danny Fujikawa, and her latest post on Thursday shows she's beaming with new mom pride and it's beyond obvious that little Rani is being showered with love.
But when it comes to her baby gear, Hudson is showing her stripes as a practical thinker. In her latest Instagram pic posted on Thursday, Hudson shows Fujikawa taking a strolling (and snoozing?) Rani out for a ride, in a great-looking buggy. And looks like it's a JOOLZ stroller, which has a reputation as an upscale model for getting the little one around town. Hudson's ride retails between $679 to $999 on the company's website.
In other words, a stroller that is nice-looking but sensible enough to appeal to all types of moms, not just famous Hollywood ones, appears to be what Hudson and Fujikawa have chosen for little Rani. And this makes sense, because this isn't Hudson's first go-around at the parenting rodeo, you know.
Hudson already has 7-year-old Bingam and 14-year-old Ryder with musician exes Chris Robinson and Matt Bellamy, respectively, according to the Daily Mail. And while Hudson has played a free spirit in some of her movie roles, she sounds very grounded as a mom, telling TODAY in 2016: "Ryder's turning out to be — I'm really super proud of him. And I had something to do with that, so I think parenting is where I feel probably my strongest."
That firm grip on parenting will no doubt be a great gift to little Rani, who now has a doting family and extended family that includes Hudson's kids, her mom Goldie Hawn and stepdad Kurt Russell, Hudson's brother, actor Oliver Hudson and his wife and kids, and Hawn and Rusell's son, Boston, according to Yahoo.
The Daily Mail added in a separate article that Hudson is so friendly with her exes, Bellamy, Bingham's dad, and Hudson were out and about in Los Angeles as friends before she gave birth to Rani. And then there's Fujikawa's step-family, the Fosters. (Actress Sara Foster, whose dad David Foster is marrying Katherine McPhee, is Hudson's bestie, as Erin Foster explains on Instagram.)
In fact, as Hudson's oldest son Ryder posted on his own Instagram, the mom of three has babysitting help right at home in the form of her sons, who clearly love their little sister. (I especially love the thought of a teenage boy like Ryder learning to swaddle, and do all the baby care. This will change his life as far as learning to be a nurturer, and it's just so cool.)
While having a third baby is a lot, Hudson and Fujikawa clearly have the built-in support system of a large, and fabulously nontraditional family, to handle it all.
Editor's note: This article has been updated to correctly identify the stroller's brand.