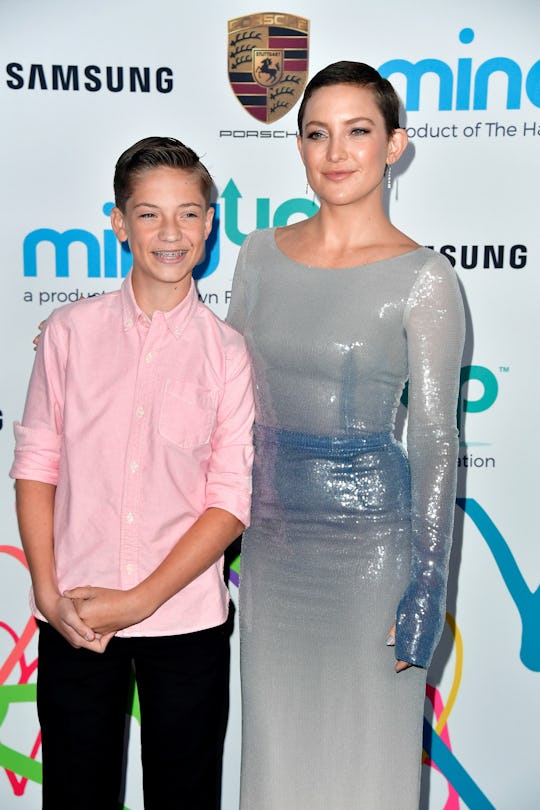 Frazer Harrison/Getty Images Entertainment/Getty Images
Prepare To Aww When You See This Sweet New Photo Of Kate Hudson's Baby Girl With Her Oldest Son
I've often wondered what it would be like to have kids who are far apart in age. I gave birth in quick succession and, as much as I loved it, the reality is those years are a bit of a blur. And as close as my kids are now, when they were little they didn't exactly appreciate each other. They were too busy vying for all of my attention all day, every day. I think older children can appreciate welcoming a baby way more, and now I have proof with this new photo of Kate Hudson's newborn daughter with her oldest son Ryder. The 14-year-old big brother looks so proud, you're definitely going to start bawling when you see it. And you're going to wonder if maybe you should just keep having babies forever... or maybe that's just me?
Hudson and her partner, musician Danny Fujikawa, welcomed Rani Rose Hudson Fujikawa on Oct. 2. Right out of the gate, the couple made it clear that they wanted their daughter to be blessed with a sense of family connection. As Hudson shared in her Instagram birth announcement, the little girl was named after her grandfather Ron Fujikawa. "We have decided to name our daughter Rani (pronounced Ronnie) after her grandfather, Ron Fujikawa. Ron was the most special man who we all miss dearly. To name her after him is an honor," she wrote on Instagram.
Rani is a pretty lucky little girl, of course. She was born into a super close knit family of grandparents (like Hudson's mom Goldie Hawn and stepfather Kurt Russell), aunts, uncles, and even two big brothers to boot. Hudson's oldest son with ex-husband Chris Robinson is 14, as reported by the Daily Mail, while his younger brother Bingham, her son with ex-boyfriend Matt Bellamy, is 7 years old. Which means there's a seven-year span between each of Hudson's children.
Does that age span stop Ryder from falling a little bit in love with his baby sister? Apparently not. He shared a few pictures of himself cradling little Rani, gazing into her face with total adoration. In other words, a look I have never seen cross any of my children's faces when looking at each other. Clearly there might be something to the idea of spreading your kids out a bit. It seems to give them a chance to appreciate their little siblings.
Or Ryder is simply nicer than my kids, who knows?
Hudson and Fujikawa might have a little hand in encouraging a close bond with the siblings. After all, when Hudson announced she was pregnant back in April, she included her sons in the post by sharing a video of the whole family popping balloons to discover the sex and captioning the announcement: "My kids, Danny, myself and the entire family are crazy excited! A little girl on the way."
Whatever the Fabletics mogul is doing to make sure her kids bond with each other, it looks to me like she's doing something right.