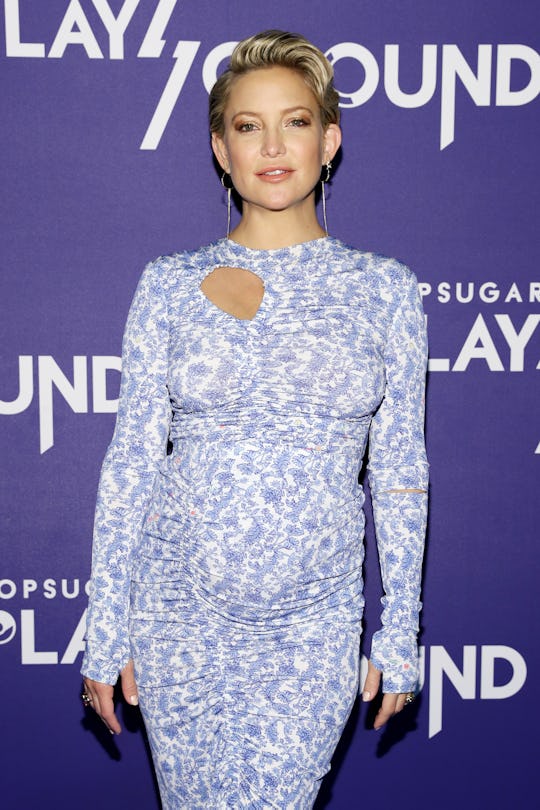 Cindy Ord/Getty Images Entertainment/Getty Images
Kate Hudson's First Photo Of Baby Rani Is Finally Here & She Is Ah-dorable
Kate Hudson is officially a mom of three! The actress welcomed her third child, a baby girl named Rani Rose on Oct. 2, along with boyfriend Danny Fujikawa. And now, Kate Hudson shared the first photo of her daughter — and, naturally, she's super adorable. Plus, you can already feel the love Hudson and Fujikawa have for Rani as it oozes out of her first public photo! Granted, it's a simple shot of the infant in a hospital bassinet... no elaborate backdrop or fancy lighting, and certainly no Snapchat filters. But it's still absolutely lovely.
In the photo, which Hudson shared on Instagram on Saturday, the gorgeous baby girl is swaddled in one of those standard issue newborn maternity ward blankets every mom will instantly recognize, plus that little cap all babies wear for the first few days of their life (with a pretty bow on the side). Hudson captioned the sweet shot, "Our little rosebud" — which couldn't be more fitting, honestly. First of all, Rani's middle name is Rose. Second of all, Kate is known for being a bit of a flower child type (a trait she no doubt picked up from her famously free-spirited mom, Goldie Hawn). Finally, just look at Rani's exquisite little mouth! Very rosebud-like, wouldn't you say?
Hudson first announced she was expecting via Instagram in early April. She shared a video taken at the baby's sex reveal party, where she, Fujikawa, and their friends and family found out the couple was expecting a girl. The video is super exciting and adorable .
"SURPRISE!!! If you've wondered why I've been so absent on my social channels it's because I have never been more sick! It was the most sick first trimester of all my children," Hudson captioned the sex reveal video. Hudson continued the post by explaining how sick she felt throughout her first trimester — something that going on social media only exacerbated, which is why she had been taking a digital detox. She wrote:
Boomerangs have made me nauseous, Superzoom is an easy way to have my head in the toilet, food instagrams make me queezy and thinking too much about insta stories made me even more exhausted than I already had been. If you've seen me out and about smiling and pretending like everything is amazing...I was lying! BUT! I have broken through on the other end of that and rediscovering the joys of insta/snap. We have been trying to keep this pregnancy under the radar for as long as possible but I'm a poppin now! And it's too darn challenging to hide, and frankly hiding is more exhausting then just coming out with it! My kids, Danny, myself and the entire family are crazy excited! A little girl on the way 💕
Hudson further opened up about the challenges of her third pregnancy in an interview with People in May. "There's all kind of differences," Hudson told People, comparing it to her previous two pregnancies. "They say girls make you sicker and that, for me, has been the truth. It's been interesting so far."
She also explained how being pregnant means you need to listen to your body — especially the tiny body growing inside of you. She told People:
The stakes are higher because it is not about you anymore, it is about this other being growing inside of you, but right now she is kind of letting me know that we have to take it easy ... When you become the vessel, when you have the privilege of carrying life and giving life, you have to listen.
Instead of concentrating on the negative side effects of pregnancy, Hudson seemed to be focusing on it all being over. In late June, she shared a photo of herself relaxing on a yoga mat, with her limbs resting on pillows. "Visualizing and connecting to a healthy birth and my first filthy dirty martini 🍸 #namaste 📿#MissMyMartinis," she captioned the shot. Yasss, girl.
It's safe to say Hudson is relieved to have her stressful pregnancy behind her, and a beautiful little daughter in her arms. Here's hoping she shares more adorable photos of Rani soon!