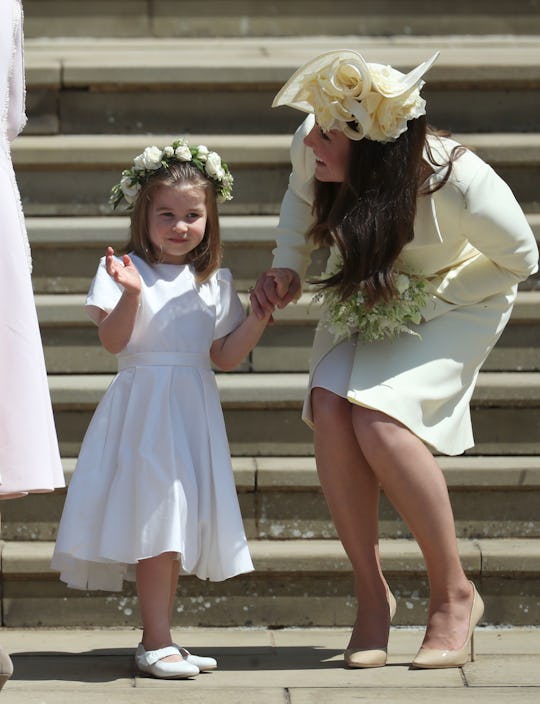 WPA Pool/Getty Images Entertainment/Getty Images
Kate Middleton May Have Cried Over Princess Charlotte For This Relatable Reason
I think pretty much everyone cried at the wedding between Prince Harry and Meghan Markle in May. It wasn't just the romance of the whole event either; who in the world can hold things together when a gaggle of adorable kids are all walking down the aisle in fancy dress clothes looking dazed and confused? It's pretty much the sweetest thing ever, and not even the famously cool and collected royals were able to get through wedding season without becoming emotional. Kate Middleton apparently cried over Princess Charlotte's dress fitting, and who could blame her? I cried when I saw her and she's not even my kid.
The Telegraph reported that Middleton got weepy at Princess Charlotte's dress fitting, as told to the media outlet by two separate sources. As everyone on the planet most certainly remembers, 3-year-old Princess Charlotte and her older brother, 5-year-old Prince George, were bridesmaid and page boy at the wedding of their uncle Harry in May. And it seems Middleton was present at her daughter's fitting and couldn't quite contain herself. Of course, there were plenty of people who were dying to start the rumor that Middleton and Markle, her now-pregnant sister-in-law, got into some sort of fight which would mean they can never be best friends like everyone's been dreaming.
I say hogwash.
While there have been no specific details released about the Duchess of Cambridge's little weepy moment at her daughter's dress fitting, the internet is going wild with rumors that the cause was tension between herself and Markle. Because that's what people want to believe, I guess, instead of my own theory which I will put forth to you right now; Kate Middleton had just given birth to Prince Louis mere weeks earlier, and on April 23, she saw her little 3-year-old daughter all dressed up as a bridesmaid and got emotional. I know this isn't the most intriguing story out there, but wouldn't this make sense? Especially considering the fact that one of the sources told Cosmopolitan UK that Middleton "had only just given birth to Prince Louis and was feeling quite emotional."
I know everyone was a bit thrown off when Middleton looked so incredible just hours after giving birth, but she is still human after all.
Because I feel like Middleton would be more likely to get emotional over her daughter than get in a fight with Markle before her wedding; after all, the poor girl had enough going on just then with her father deciding at the last minute not to show up and everything.
Plus, look at this happy family from Prince Charles' 70th birthday portrait. Pictures don't lie, guys.
I know it's not terribly exciting to think of the royal family all getting along and hanging out together, but I think it's a little unfair to push the idea that they're constantly at odds as well. Especially when people try to start a rumor that Kate Middleton was crying at her daughter's dress fitting for any reason other than being an emotional mom.
Perhaps it's time to allow them regular human emotions and be done with it, shall we?
This first-time mom wants to have a home birth, but is she ready? Watch how a doula supports a military mom who's determined to have a home birth in Episode One of Romper's Doula Diaries, Season Two, below. Visit Bustle Digital Group's YouTube page for the next three episodes, launching every Monday starting November 26.