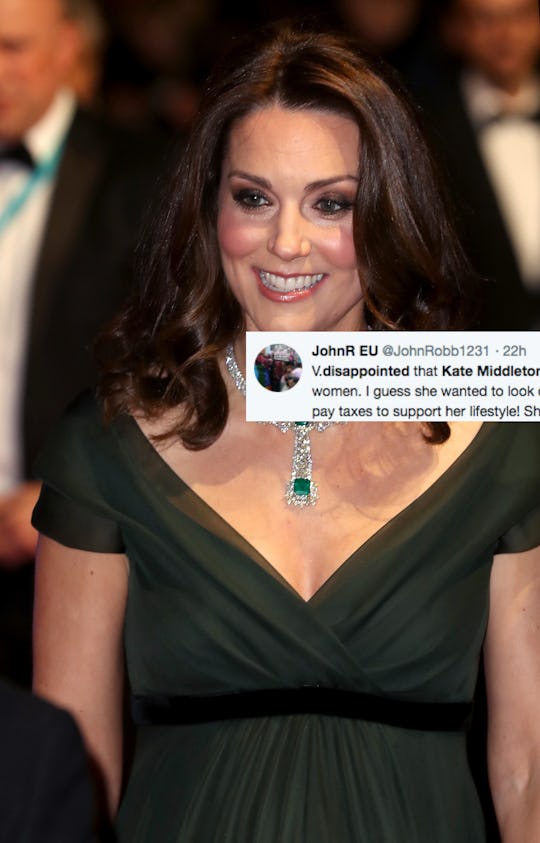 Chris Jackson/Getty Images Entertainment/Getty Images
Kate Middleton's *Controversial* Dress At This Award Show Has Some Of Twitter Truly Pissed Off
On Sunday night, Kate Middleton and Prince William attended the 2018 British Academy Film Awards (BAFTAs). Middleton, who is set to give birth to the couple's third child in April, wore a dark green gown paired with an emerald necklace to the prestigious event. Although the ensemble was stunning (girl rocks pregnancy like a total pro), many people thought Kate Middleton's dress at the BAFTAs threw shade at the Time's Up movement. Similarly to the Golden Globes, the BAFTAs encouraged an all-black dress code to protest sexual harassment and assault in Hollywood, and given Middleton's long history of feminist-driven work, the internet was shocked to see her donning green at the ceremony. But don't fret, Middleton fans — there's a very compelling theory circulating as to why she didn't wear black.
Prior to the BAFTAs on Sunday, there was rampant speculation about what Middleton would wear to the event. Many outlets wondered if Middleton would honor the Time's Up movement with a black gown or if she'd do her own thing. As one can imagine, this must have been a lot of pressure for Middleton. Not only is Middleton seven months pregnant (finding maternity couture can be tough), but as a member of the Royal Family, she has to put a lot of thought into each outfit she wears in public.
Ultimately, Middleton decided on a "deep green cap-sleeved gown by Jenny Packham" and "Prada heels," according to PEOPLE.
Of course, Middleton's look didn't go unnoticed by her fans. Following Middleton's red carpet stroll, many people took to Twitter to voice their outrage and frustration that Middleton didn't wear black to the event.
So, why didn't Middleton wear black?
One solid theory centers around royal protocol. Royals can't participate in or publicly express support for political movements, according to The Cut. It's a bit complicated to explain in a few sentences, but the Royals are expected to remain politically neutral as to avoid any turmoil or conflict of interest, according to CNN. In fact, it's not even considered "constitutional" for Queen Elizabeth to vote. "Although not prohibited by law, it is considered unconstitutional for the Monarch to vote in an election," the U.K. parliament website states.
Of course, this doesn't mean that Middleton doesn't have political views or is against the Time's Up movement. One can even speculate that Middleton low-key lent her support to Time's Up via the green dress' black sash and her black clutch. Additionally, one astute person on Twitter pointed out that the color green might have something to do with the suffrage movement.
It's also important to recognize Middleton's long commitment to women's issues. Throughout the years, Middleton has drawn awareness to important topics like postpartum depression and other issues affecting women. And ever since Middleton joined the Royal Family, she has visited at least a handful of all-women's prisons to talk with inmates who are struggling with alcohol, drug addiction, and mental health problems.
Following a visit to one of those prisons in 2015, Middleton said in a statement, according to TIME:
I was reminded today how addictions lie at the heart of so many social issues and how substance misuse can play such destructive role in vulnerable people's lives. I saw again today that a failure to intervene early in life to tackle mental health problems and other challenges can have profound consequences for people throughout their lives. I am grateful to the women I met for sharing their difficult personal stories with me. It is encouraging to learn how organisations like RAPt are offering specialist support to help people break the cycle of addiction and look forward to a positive and crime free life.
Although one might argue that Middleton's commitment to women struggling with addiction and mental health issues has nothing to do with the Time's Up movement, I think it does prove that she's dedicated to helping other women. And if this is Middleton's mission in life, then I don't think it's far off to assume that she does support the Time's Up movement.
Of course, the public can't know where Middleton stands until she breaks her silence.