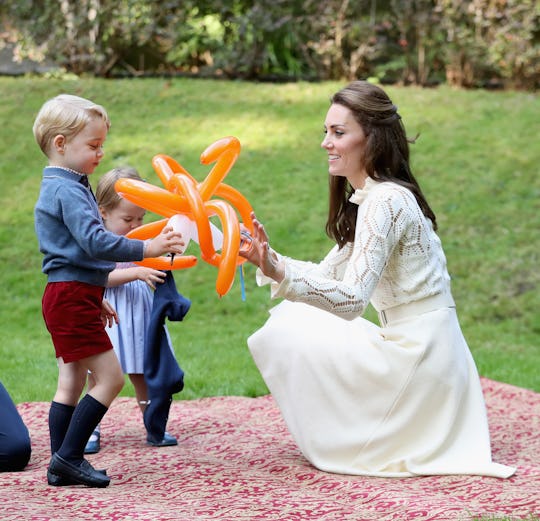 Chris Jackson/Getty Images Entertainment/Getty Images
Kate Middleton Dropped In At An Art Fair Near Prince George's School
The Duchess of Cambridge wants nothing more than to be a regular mom who gets to do ordinary things with her kids. She hasn't told me this, of course, but I feel it in my bones. As photographed as Kate Middleton almost always is, I have to say she never looks more at home than she does when she's with her kids. So when Kate Middleton showed up at Prince George's school and attended an art fair recently as something of a surprise, I wasn't surprised. She's just like every other mom, doing the school drop off and then hanging out for a bit afterwards.
Hello magazine reports that Kate Middleton took everyone by surprise in Battersea Park on Friday. Her 5-year-old son Prince George attends Thomas's Battersea School in London, close to Buckingham Palace, and she had just finished her regular routine of doing the school drop-off. Apparently she and her husband, Prince William, take turns dropping off Prince George at his school and their daughter, 3-year-old Princess Charlotte, at Willcocks Nursery School.
Middleton is so dedicated to making sure she's around for the school drop-off, in fact, that Hello reported she even did it the day after her youngest child, 6-month-old son Prince Louis, was born. It was probably tough for her to miss his official first day of school when she was pregnant and feeling ill, but his dad was there with him.
These days, however, Middleton is so deeply entrenched in the school pick-up routine that she hung around at Battersea Park afterwards... and almost escaped unnoticed. The Duchess was spotted checking out The Decorative Antiques & Textiles Fair at Battersea park, and appeared to do so as sort of a spur of the moment thing. She was seen around 2:00 p.m., just before Prince George would need to be collected from school. An onlooker told Hello that Middleton seemed to be on her own and was simply walking checking out the goods:
Kate was very casual, wearing blue jeans and a pink shirt. She had on a pair of white trainers. She was very, very pretty. She appeared to be on her own with no obvious security in sight. She was walking along the aisle with someone who looked as if he was explaining something to her, perhaps a dealer or a member of the exhibition staff.
If she was carrying a pumpkin spice latte she would basically be me.
The little Cambridge family has a lot going on these days; Prince George is starting ballet this term, Princess Charlotte is getting bigger (and probably sassier) by the minute, and Prince Louis is at the stage where you know he's going to be getting more mobile. So I'm really happy that Kate Middleton took a minute out of her day to just hang out, look at art, and spend some moments to herself.
Because as much as she seems to want to be a regular mom, it's obviously a lot tougher for her to find a hot minute to herself. Like, ever. I hope she enjoyed it.