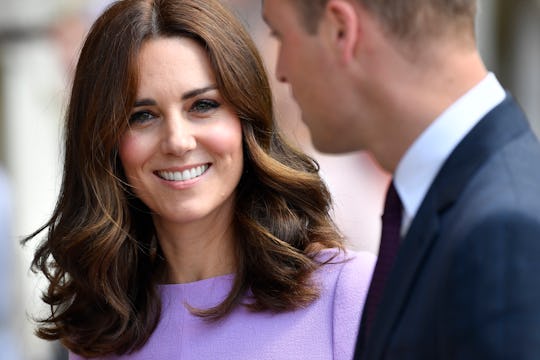 Alexander Koerner/Getty Images Entertainment/Getty Images
Kate Middleton Feminist Quotes
Kate Middleton is an inspiring role model to women around the world. Many who admire the Duchess of Cambridge for her intelligence and her service (and yes, her consistently amazing outfits) find themselves wondering if she considers herself a feminist. There are a few Kate Middleton feminist quotes floating around, even if the tight-lipped Middleton doesn't come right out and call herself by that label. And even more than in words, Middleton has shown a long history of lifting up other women in deeds.
Middleton may be most famous for her fairy tale love story with Prince William, but she has worked hard to support women and children, particularly when it comes to mental health. Most recently, the mother of two ridiculously adorable royal children has spoken out about the challenges of motherhood, in a quest to help struggling mothers feel less alone. During a speech for Best Beginnings, an organization in the UK focused on child health care, Middleton said,
It is right to talk about motherhood as a wonderful thing, but we also need to talk about its stresses and strains. It's okay not to find it easy, and asking for help should not be seen as a sign of weakness... If any of us caught a fever during pregnancy, we would seek advice and support from a doctor. Getting help with our mental health is no different.
She has also highlighted the feminist message that it's important for both girls and boys to talk about their feelings, saying in a Huffington Post UK article,
We hope to encourage George and Charlotte to speak about their feelings, and to give them the tools and sensitivity to be supportive peers to their friends as they get older. We know there is no shame in a young child struggling with their emotions or suffering from a mental illness.
And Middleton sends a feminist message with more than just words. Consider the dress she wore in the picture where she and William presented Prince George to the world for the first time. Mic called it "a feminist choice," for its figure-fitting cut, highlighting her post-birth body. Even knowing that magazines and tabloids would pick the picture apart, Middleton wasn't afraid to get real, sending a message to other women out there that it's okay to be your natural self in a looks-obsessed world.
She has also spent time visiting a women's prison, talking with inmates there and lending her support to women reentering the world and the workforce.
The royal family is notoriously mum about "controversial" topics, but they're starting to open up. Perhaps, soon, we'll be getting a deluge of Middleton's quotes about her feelings on feminism. But in the meantime, hey, if lifting up other women isn't feminist, what is?