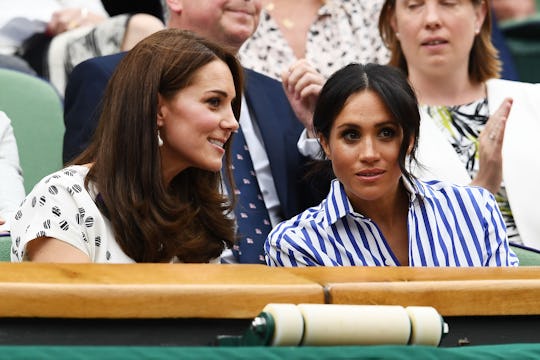 Clive Mason/Getty Images Entertainment/Getty Images
Kate Middleton's Comment About Meghan Markle's Pregnancy Should End Those Rumors
There have been these pretty terrible, insidious rumors floating around the internet about Kate Middleton and Meghan Markle over the past few days. Several media outlets have reported that there has been a rift between the two royal families, I guess because no one wants us to have nice things or everyone wants to ruin my dream of the two women becoming best friends. Well, sorry to all of you who have been thinking the worst, but it looks like you're as wrong as I suspected. That's because when Kate Middleton was asked about Meghan Markle's pregnancy on Tuesday, her answer effectively shut down any thought that the royal "Fab Four" have stopped getting along.
The rumors of a rift began last Saturday after it was announced that Prince Harry and Meghan Markle would be moving to Frogmore Cottage on the Windsor Estate in the new year, according to People. The expectant parents are currently living in two-bedroom Nottingham Cottage in the grounds of Kensington Palace, where both the Cambridge and Sussex family's royal duties are managed, and there was some speculation they might move into Apartment 1 at Kensington beside Prince William and Middleton, as E! News reported.
But they are reportedly interested in moving a little further away from London now that they are expecting their first child. And Windsor Estate is, of course, the site of their May wedding.
In the days since their move was announced, perhaps coupled with speculation that the two brothers are planning on splitting their royal houses into two separate official roles, there have been reports that the two couples no longer get along. That Prince Harry felt Prince William didn't do enough to welcome Markle last Christmas, according to ELLE, and that Middleton was reduced to tears at a bridesmaid fitting for her 3-year-old daughter Princess Charlotte prior to Markle's wedding, as People reported. Essentially, these rumors suggested that all was not well between them.
Fortunately, it seems these reports were pretty unfounded. Because when Kate Middleton was asked about her sister-in-law's pregnancy on Wednesday, she made it abundantly clear that she was excited.
Middleton and Prince William were on hand at the Leicester King Power Stadium to honor victims of a tragic helicopter crash that happened there last month, as the BBC reported. When one of the well wishers in the crowd asked her about Markle's pregnancy, ELLE reported that Middleton said:
Yeah, absolutely, [I'm excited for Meghan and her new baby]. It's such a special time to have all the kiddies and a cousin for George and Charlotte as well as Louis so it'll be really special.
That's the thing; these people might be royals but it's important to remember they're a family. Sure, they might be figuring out how to deal with their new roles with each other; after all, Prince Harry spent much of the past seven years as the perfect third wheel to Prince William and Middleton. That's changed now, but that's OK. Prince Harry is about to become a father for the first time, and it makes sense that he and his wife would want to establish their own identity. It also makes sense that they might want a bigger home in the country now that they'll be parents.
So let's just give them all the benefit of the doubt, shall we?
This first-time mom wants to have a home birth, but is she ready? Watch how a doula supports a military mom who's determined to have a home birth in Episode One of Romper's Doula Diaries, Season Two, below. Visit Bustle Digital Group's YouTube page for the next three episodes, launching every Monday starting November 26.