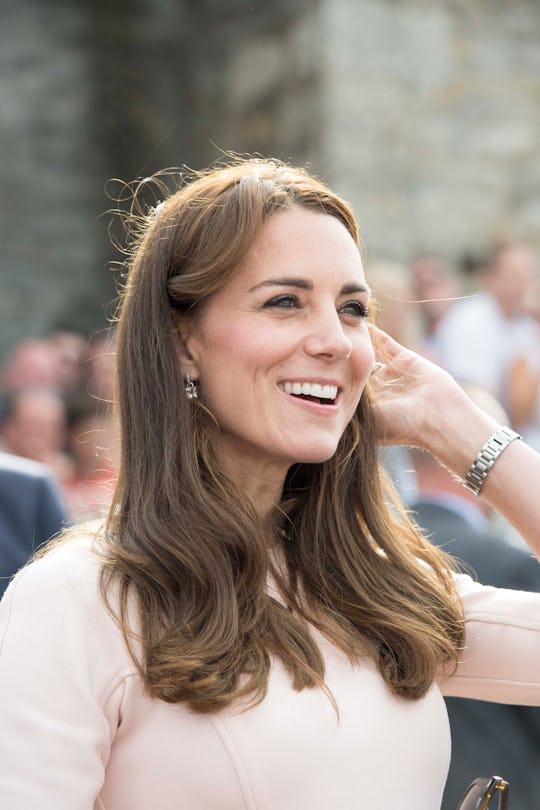 WPA Pool/Getty Images Entertainment/Getty Images
Kate Middleton Is Striking Out On Her Own To Start A New Charity
The Duchess of Cambridge is getting set to come back to work after enjoying a few months of maternity leave. I won't lie to you, part of me was feeling sort of awful for her. I know how nice it is to have some time off with her three kids, and she seemed to be having a pretty great time. I was thinking that getting back into the swing of her royal duties might feel like a lot. But now I think she's ready to shake things up a little. Kate Middleton is striking out on her own for the first time ever, and I have a feeling her work is going to bring her heaps of satisfaction.
According to The Daily Mail, Middleton is about to embark on her first solo charity effort. And perhaps unsurprisingly for the mother of three, her focus is on children. Disadvantaged children who she feels might not be getting support from a young age and who need more help, to be specific. While nothing official has yet been announced, a palace source told The Daily Mail that the Duchess of Cambridge plans to bring together experts to help children who have been failed by "broken Britain."
Middleton, who is mother to 5-year-old Prince George, 3-year-old Princess Charlotte, and 5-month-old Prince Louis, reportedly wants to work with experts to come up with realistic solutions to deal with some of the issues that might be hindering young children from realizing their full potential. She is apparently pulling together academic, health, and education experts to deal with serious concerns like anti-social behavior, mental health, learning disadvantages, and addiction in children. As the palace source explained to The Daily Mail, this is a charity Middleton feels passionate about:
This is a lifelong project. She is looking at what she can do over the next five, ten, 15, 20 years. She wants to be able to look back and see what difference has been made.
This charity feels like a pretty perfect fit for Middleton, especially considering her past charitable efforts with husband Prince William and brother-in-law Prince Harry. The three helped to found the Heads Together project, a massive campaign which is meant to help people overcome the stigma of mental health struggles, according to the website:
Too often, people feel afraid to admit that they are struggling with their mental health. This fear of prejudice and judgement stops people from getting help and can destroy families and end lives. Heads Together wants to help people feel much more comfortable with their everyday mental well being and have the practical tools to support their friends and family.
The trio have made mental health awareness, and particularly keeping an open dialogue with children, a real focal point of their charitable work in the past few years. In fact, the three sat down for a rare video chat together to talk about how mental health issues in children are an important topic for all of them.
This new initiative of Middleton's is set to launch in 2019. She plans to use her reach under the umbrella of the Royal Foundation to do some research with experts into why so many young children in Britain are not getting the help they so desperately need, according to The Mirror. While there may be some critics who question Middleton's ability to truly empathize with children of poverty when she lives in an actual palace, the Duchess reportedly plans to use her influence to help these children regardless of what anyone thinks.
She might not be poor, but she's a mom. And she has the power to affect change. With the backing of her husband, or on her own.