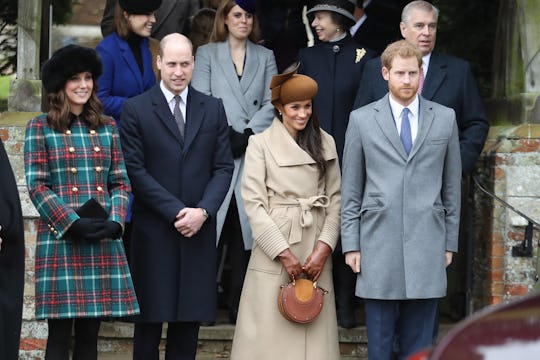 Chris Jackson/Getty Images Entertainment/Getty Images
Kate Middleton & Meghan Markle's Christmas Plans Should Put An End To Those Rumors
Christmas is just weeks away and eyes have never been more on the royal family than they are right now. As such, you've probably heard some rumors about an alleged feud brewing across the pond, but Kate Middleton and Meghan Markle's reported Christmas plans should, hopefully, put an end to them once and for all.
Indeed, despite reports that there's some tension amongst the royal fab four, People and the Daily Mail reported on Monday that Prince William, Duchess Kate, Prince Harry and Meghan Markle would all be spending Christmas at The Sandringham Estate in Norfolk with the Queen. People added that Prince Will, Middleton, and their three kids plan to stay at "their nearby home of Anmer Hall," but Prince Harry and Duchess Meghan's Christmas residence has not yet been revealed. What's more, the Queen reportedly invited Meghan's mom Doria Ragland to join them all, according to Glamour.
That sure sounds like a nice Christmas to me, though Prince William and Duchess Kate may be splitting up their time for the holidays. Kate's mother, Carole Middleton, recently gave an interview with The Telegraph about her family's Christmas plans and she told the newspaper that they'd be coming over for Christmas this year.
Town & Country reported that the family-of-five typically alternates spending Christmas with the Middletons and with the royals every other year. Last year, for instance, the family reportedly spent Christmas with the Queen, as well as Prince Harry and Duchess Meghan, according to Hello! Magazine, and they spent Christmas 2016 with the Middletons, according to The Telegraph. But it sounds like this Christmas might play out a differently. Perhaps Prince William and Duchess Kate changed their plans in the last few days, or they are actually spending Christmas Eve with one family and Christmas Day with the other.
Reports that the royal foursome will at least be spending some time together during the holidays will hopefully stifle any lingering speculation that Prince William and Prince Harry are feuding, according to The Cut, or that there's a feud between Meghan and Kate.
The rumors are getting harder to keep up with, but this weekend, The Sun reported that a "source" said Meghan was allegedly rude to Kate's staff earlier this year, after which Kate reportedly told Meghan her behavior was unacceptable. This prompted Kensington Palace to issue a rare statement. "This never happened," a palace spokesman told The Mirror. That settles that.
Not only did Kensington Palace all but confirm that the feuding rumors are untrue, but the rumors were pretty dang baseless in the first place. Here's hoping people will stop searching for excuses to pit women (and brothers) against each other, because it's just not OK anymore. C'mon, it's the holidays...
This first-time mom wants to have a home birth, but is she ready? Watch how a doula supports a military mom who's determined to have a home birth in Episode One of Romper's Doula Diaries, Season Two, below. Visit Bustle Digital Group's YouTube page for the next three episodes, launching Mondays in December.