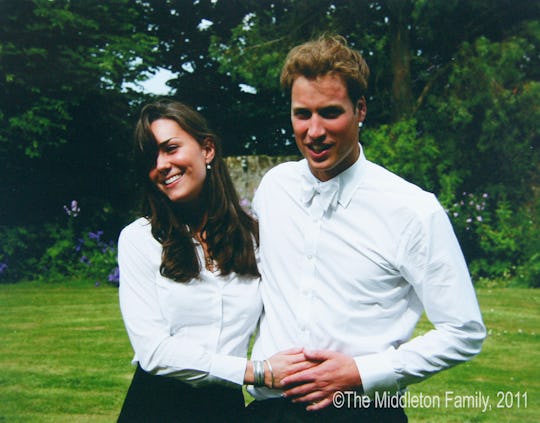 Handout/Getty Images Entertainment/Getty Images
Kate Middleton & Prince William's Graduation Video Proves They've Been Adorable Forever
The Duke and Duchess of Cambridge seem to be enjoying something of a marital heyday lately. While the couple, who were married in 2011, have always struck me as awfully happy together, lately they seem to be seriously hitting their stride. Which is pretty beautiful considering how long they've actually been a couple. In fact, watching this resurfaced video of Kate Middleton and Prince William's graduation acted as a sweet reminder that they have, indeed, been adorable forever. Also that Kate Middleton's shiny perfect hair is the one constant we can all rely on in this world.
Most of us know the love story of the Duke and Duchess of Cambridge, or at least an abridged version of the tale. The pair met when they were both students at the University of St. Andrews in Scotland in 2001. They dated for a few years, as per Elle magazine, and even ended up sharing an apartment off campus with two fellow students while still in school. They remained an item throughout their school years, going public on a ski trip in 2004. By the time the two were set to graduate from the University of St. Andrews in 2005, they were a well-established couple. And so utterly adorable, both together and separate, that their graduation video needs to be watched all over again. Thankfully a royal watching Instagram page @teatimewiththecambridges did the world a favor and shared the video.
So let me walk you through some of the more wonderful moments in this video; first of all, Queen Elizabeth II, her husband Prince Phillip, Prince Charles and his wife Camilla, Duchess of Cornwall, were all on hand in the audience, as per The Daily Mail. When Middleton's name was announced (reminding me that she is, indeed, referred to as "Catherine" and making me feel a bit foolish for calling her Kate), she walked to the podium like she was walking the catwalk. Super confident and lovely, of course. And the Queen can be seen quickly glancing over at Prince Charles, maybe to see what his reaction might be. Possibly proving that Queen Elizabeth is here for the royal gossip as well?
As nice as it was to see Middleton getting a little bit of royal attention at the graduation, the whole family couldn't quite contain their excitement when they watched "William Wales" (as Prince William was called at the school) accept his own graduation hood on bended knee. All four members of the British royal family who were on hand reacted with huge grins.
As much as I would love to tell you that the Middletons and the royal family all hung out together and went for Chinese food after the ceremony or something, that probably didn't happen. The young couple, who were both just 23 at the time, would end up separating for a time in 2007, as per Elle, reportedly due to pressure from constant media attention. Fortunately, we all know this sweet young couple would eventually get married and welcome three of the cutest kids you've ever seen, 5-year-old Prince George, 3-year-old Princess Charlotte, and baby Prince Louis.
And judging from some of their recent public displays of affection, the love affair just keeps getting stronger. I guess there's hope for us all.