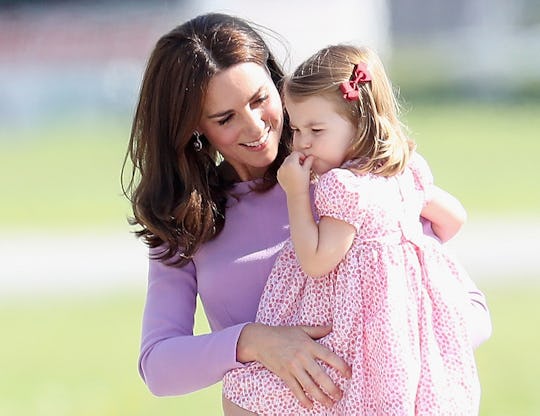 Chris Jackson/Getty Images Entertainment/Getty Images
Kate Middleton & Princess Charlotte Went On The *Sweetest* Mother-Daughter Date
It can be tough to find special time with each of your kids when you're a mom. Especially when you're a busy working mom who just started back to official business after giving birth eight months ago like Kate Middleton. But that doesn't stop the Duchess of Cambridge from trying to fit in a little quality time with her kids one-on-one. In fact, Middleton reportedly took Princess Charlotte for a festive mother-daughter date earlier this week, according to People, because she presumably understands how integral getting alone time with her is for each of her little ones. And if you can find an outing that incorporates something they really love? That's a parenting slam dunk.
The mother of three has been a busy lady in recent months. She welcomed Prince Louis in April, who joined 3-year-old sister Princess Charlotte and 5-year-old brother Prince George. After spending the summer taking time away from her duties as a working member of the royal family, Middleton has been back to work for a few months. Her older children have also been back to school, of course, with George attending Thomas's Battersea School in London and Charlotte attending Willcocks Nursery School close to the family's country home Anmer Hall. Middleton and her husband, Prince William, continue to work on their charities and host functions like the Christmas dinner they recently hosted for military families at Kensington Palace. The kids are busy in school. So what's a mom to do to get a little quality time?
Take her daughter to the ballet.
Not just any ballet, either; Middleton reportedly took her little girl for a sneak peek at the Royal Ballet's upcoming performance of The Nutcracker at the Royal Opera House. The pair were seen via social media photos arriving at the venue to watch a rehearsal of the classic story of the Nutcracker prince who came to life, as reported by the Daily Mail.
This isn't the first time the Duchess of Cambridge enjoyed a private showing of this special ballet performance. When she was still pregnant with Prince Louis last Christmas, she visited the performers ahead of opening night.
Middleton is by no means the only ballet-lover in this family. Prince George is apparently taking weekly ballet classes at Thomas's Battersea School and really loving it, as his father told a young dancer at Kensington Palace according to Hello! Magazine, "George is doing dancing as well, he loves it."
And then there's Princess Charlotte, a little girl who both parents have gone on the record to say is a huge fan of dancing herself. She is reportedly taking ballet lessons herself, as reported by Town & Country. Imagine how excited she must have been to be at a special showing of the Nutcracker with her mom. Just the two of them, no one else to take her attention away. Watching a beautiful ballet unfold before her eyes.
If that isn't the most delightful Christmas present a little dancing princess can get, time alone at the ballet with her mom, I just don't know what is. That Kate Middleton, man. She's got parenting on a lock.
This first-time mom wants to have a home birth, but is she ready? Watch how a doula supports a military mom who's determined to have a home birth in Episode One of Romper's Doula Diaries, Season Two, below. Visit Bustle Digital Group's YouTube page for the next three episodes, launching Mondays in December.