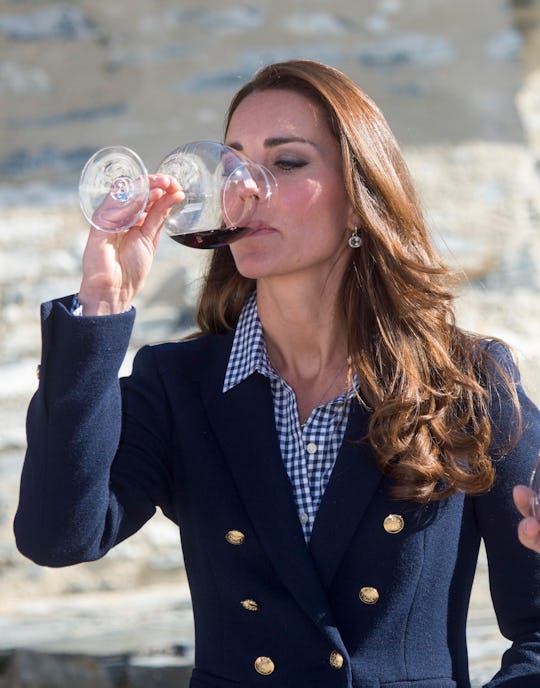 Pool/Getty Images Entertainment/Getty Images
Why Kate Middleton Reportedly Started A Drinking Club In College Will Make You Love Her Even More
There are certain games I simply refuse to play in life. I don't like playing Risk because it takes forever and it's boring. And I also don't play favorites between Kate Middleton and Meghan Markle. I mean, why don't you just go ahead and ask me to pick my favorite child? They're both pretty spectacular, and all I really want is for them to become best friends and rule the palace in the most 21st century cool feminist way possible. With that in mind, please know that Kate Middleton reportedly founded a club in college just for women. So obviously she's going to run things at the palace with Meghan Markle at her side and do it exactly right.
As folklore tells us, Kate Middleton met her future husband, Prince William, on the stairwell of their shared dormitory at St. Andrew's University in Scotland. It was all very platonic at first, apparently; the two were dating other people and started out as friends, according to CNN. Besides Middleton had a pretty busy social scene at the time and she didn't need to be tied down to some guy, future King of England or otherwise. She was doing a little catwalk modeling on campus for a charity fashion show, according to the Daily Mail, which reportedly really got the notice of Prince William since she was wearing a see-through dress and looked divine.
Oh yeah, and, according to The Sun, she was also busy starting a ladies-only drinking club.
According to The Guardian, Kate Middleton founded a drinking club for women when she was at college because she was fed up with the fact that traditional drinking clubs would not allow women to join. The Guardian shared an article about the future Duchess of Cambridge and mother to three adorable royal offspring back in 2007, writing that Middleton really bloomed in college. "At university, Kate continued to grow in confidence," The Guardian wrote. "She co-founded a girls' drinking society, 'annoyed that the old ones excluded women' — but no one remembers her getting very drunk."
First of all, I think I need to start my own drinking society. Which sounds significantly different to just drinking a bunch of boxed wine and hours upon hours of Netflix with my fellow moms like I do now. According to In Style, British drinking societies are more like secret groups where people get dressed up fancy and eat delicious food. And obviously drink lovely cocktails. I must confess that I desperately hope these events happen behind trick bookshelves in hidden rooms. Where everything is candlelit and nobody speaks above a murmur.
I know one person at the castle who would be down to start a new drinking society with Middleton if she only asked: Meghan Markle.
Before she met Prince Harry and became the Duchess of Sussex, Meghan Markle ran a lifestyle site called The Tig where she offered tips on how to throw a good party, make a bunch of delightful meals, and generally just be every girl's best friend in the world. Plus, she's a feminist who has been fighting for a woman's right to do whatever the hell she wants since she was a kid. So you know these two would host the best bashes ever at the palace.
Here is what I need to happen; I need the rest of the royals to "bugger off" for the night as they say, and let Kate Middleton and Meghan Markle start their own drinking society for ladies. I need it to be so secretive and exclusive that I will never find out about it, but I'll know it's happening in some deep part of me and this will bring me joy.