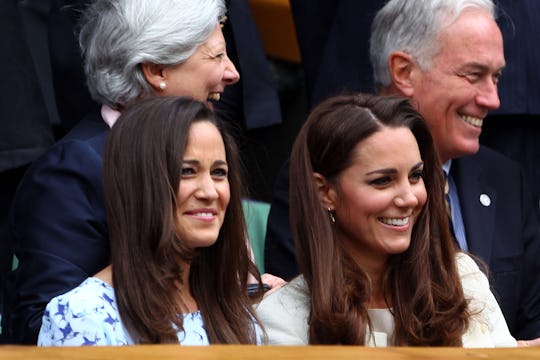 Clive Brunskill/Getty Images Sport/Getty Images
Kate Middleton Reportedly Hasn't Met Pippa's Baby Yet, But Don't Read Too Much Into It — Really
The royals are seriously blessing us with loads of news these days. After struggling through the early 2000s with barely a whiff of excitement, members of the royal family have really stepped up their game — especially in the wedding and baby department. Even people who are not royal, but rather royal adjacent, like Pippa Middleton and her husband James Matthews, are jumping on that beautiful baby train. The two just welcomed their first child, a baby boy, on Monday. And while Kate Middleton reportedly hasn't visited her sister Pippa's baby yet, according to Vanity Fair, let's not jump to conclusions and assume there's some vile drama attached here. There could be several excellent reasons why she hasn't made it as of yet.
Pippa Middleton gave birth to her baby boy at the same hospital where the Duchess of Cambridge welcomed all three of her children, according to USA Today, the super posh Lindo Wing of St. Mary's Hospital in London. Pippa had the benefit of already being quite well acquainted with the Lindo Wing, of course, having visited her sister there when she gave birth to 5-year-old Prince George, 3-year-old Princess Charlotte, and 6-month-old Prince Louis. Which was quite an accomplishment when you consider the fact that Kate Middleton was only at the hospital for seven hours or so after giving birth to Prince Louis.
So why is it that Kate Middleton reportedly hasn't visited her sister at the hospital in the same way?
Well first things first; we don't necessarily know for sure that she hasn't visited. Sure, the press managed to catch sight of Pippa's brother James Middleton visiting his sister at the hospital on Monday, as reported by OK!, but there is the possibility that the Duchess of Cambridge might have made a secret visit or something. Highly unlikely given that she is arguably one of the most photographed women on the planet, but it could have happened.
The Duke and Duchess of Cambridge did issue a congratulatory message to Pippa and her husband after the two welcomed their baby, according to Harper's Bazaar, saying via a Kensington Palace statement:
The Duke and Duchess of Cambridge are thrilled for Pippa and James.
Now if Kate hasn't visited her sister at the hospital, it makes sense. Because the Duchess of Cambridge is back to work with her royal duties after taking several months off to care for baby Prince Louis. And while her royal engagements might look like a fun easy time to the rest of us, the reality is that they're serious.
These engagements take a long time to organize, as Vanity Fair reported, and Kate Middleton takes her responsibilities seriously. For instance, on Tuesday she hosted a meeting for Early Years, one of her charitable initiatives, at her home in Kensington Palace. This meeting would have likely been booked months in advance, with many people having to organize their schedules around it. If Duchess Kate had canceled it to visit her sister in the hospital... that would have created some pretty nasty headlines, I'm sure.
There's also the possibility that the Duchess of Cambridge is trying to allow her sister to welcome her baby with a modicum of privacy. After all, it seems a little unfair that Pippa Middleton should have to deal with members of the paparazzi simply because her sister visited the hospital.
If the reports are true, I think Kate Middleton and her husband, Prince William, are doing her sister a real service by waiting to meet the baby. After all, if they get together at home it will be more relaxed. Maybe Prince George and Princess Charlotte can even join in the fun.