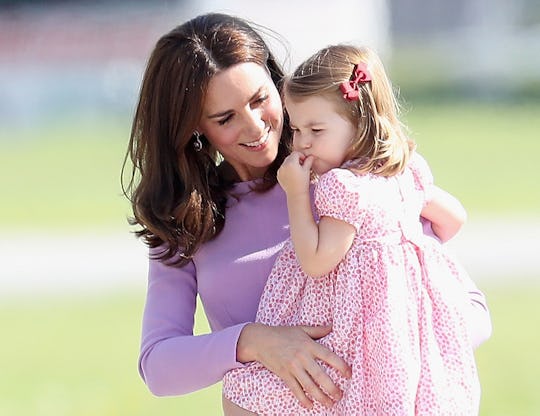 Chris Jackson/Getty Images Entertainment/Getty Images
Kate Middleton Reportedly Made This *Classic* Shopping Mistake With Her Kids
Kate Middleton is just like every other mom on the planet, I think, in some very integral, wonderful ways. I know what you're thinking: How could a member of the British monarchy ever be anything like me? What with her luxurious hair and her buckets of money and her inimitable wardrobe. But at the heart of who Kate Middleton is, I say as someone who does not know her but admires her greatly, she is a mom. A mom who is trying hard to do her best but sometimes messes up. Recently Kate Middleton reportedly made a classic shopping mistake with her kids that every mom has probably made. Because she's still acting like a human, and this is why everyone loves her.
The Duchess of Cambridge, according to Hello! Magazine, has been busy getting her two older kids, 5-year-old Prince George and 3-year-old Princess Charlotte, ready to go back to school. Young George will be starting his second year at Thomas's Battersea on Thursday, while little Princess Charlotte will head to Willcock's Nursery on Wednesday, according to Express. Now that Kate Middleton has given birth to her third child, Prince Louis, she is probably pretty excited to get her older two back into the swing of things. Much like the rest of us. And much like the rest of us, she's bound to make a few little mistakes along the way.
Apparently, according to Hello! Magazine, Middleton took her two older kids out to Peter Jones, a store in London, to buy school shoes a few weeks back. This store stocks the right shoes required for Prince George's school uniform, and it seems that his mom decided to take both kids with her to get their school shoes. Let's all take a moment to realize that this ritual is something the Duchess of Cambridge does not really have to do, but chooses to do with her kids. Further proof that she's super hands-on. But she's not perfect, thankfully.
But as Hello! Magazine reported, Middleton apparently brought the kids in sandals and forgot to bring socks. The store had to provide them for her so the kids could try their shoes on and yes, now I love her even more.
Both Middleton and her husband, Prince William, have made massive efforts to be as real and down-to-earth with their kids as possible. Which is pretty revolutionary considering they are being raised largely in Kensington Palace (although the family tends to spend a lot of time at Anmer Hall in Norfolk, which is essentially their weekend home, according to Harper's Bazaar).
Instead of presenting a picture of a perfect family, Kate Middleton has happily been drooled on by a young Prince George in public and has had to discipline both of her kids on numerous occasions with her patented crouch-and-scold technique.
And who could ever forget Prince William, mere hours after welcoming his third child, falling asleep during an Anzac Day ceremony in April? If that's not the picture of a parent trying to do their best while still being human, I don't know what would be.
The Duke and Duchess of Cambridge might be destined to be the King and Queen Consort of England one day, but for now they seem to be most comfortable in the role of involved parents. Regular, loving, normal people who are trying to navigate the choppy waters of raising young kids with the added difficulty of doing it in the spotlight.
But I have to say, every time one of them does something so endearingly human (like forgetting socks when shopping for shoes) I think it gives people the chance to feel connected to them in a more real way. Because we're all just parents trying to buy some shoes for our kids. Socks or no socks.