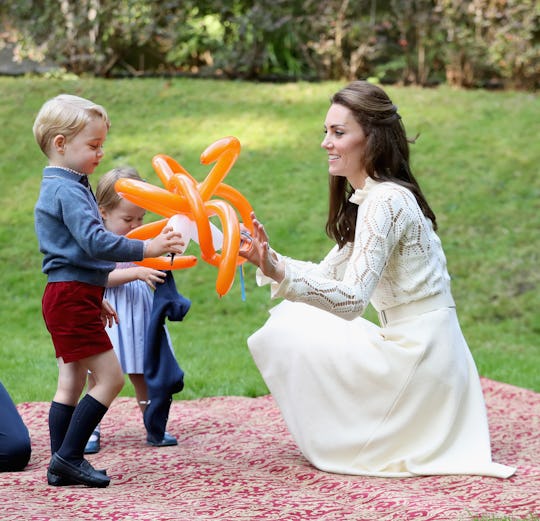 Chris Jackson/Getty Images Entertainment/Getty Images
Kate Middleton Just Revealed A Very Cute Detail About Prince George's Personality
Kate Middleton is back to professional duchess-ing after the birth of Prince Louis, and she's been out seriously representing the royal family. But at her latest engagement, she dropped a fascinating detail about her oldest child's way of looking at the world. And Middleton's revelation about this adorable detail of Prince George's personality has the world waiting for even more information about the oldest of the Cambridge kids.
At a private viewing of the offerings at London's Victoria and Albert museum on Wednesday, the Duchess of Cambridge was, naturally, drawn to the photography exhibits, as Hello! magazine reported. Duchess Kate is a keen amateur photographer herself, and has snapped some of the royal family's best portraits — really.
After being shown a pencil drawing by William Henry Fox Talbot, a pioneer of photographic processes, according to the Metropolitan Museum of Art's website, Middleton was reportedly told by museum curator Martin Barnes that the inventor blamed his lack of ability in drawing on his pencil, according to Hello!.
Later, Martin told the magazine about the conversation, saying:
She said, "George would do that!" — that is blame the pencil.
Now, I just love this detail: It shows that 5-year-old Prince George clearly has some spunk! If he is having trouble making his alligator or horse look right in a picture, instead of blaming himself for not doing the "perfect" drawing, he just... thinks the pencil should do better.
That's some self-confidence, and I love it. Far too often, moms see kids who expect perfection the first time they try something, from a unicorn drawing to a karate move. It's important for children to have fun, not be so hard on themselves and feel free to experiment with new activities without getting it all right yet. Things are competitive enough for kids later on.
It also shows that what you've guessed about Prince George in public and from pictures is right: He's the leader of his siblings, and he has a solid sense of self. "George rules the roost," Prince William said of his firstborn last year, according to Good Housekeeping. While that makes him sounds like the perfect mini-king in training, the magazine also noted that, according to his parents, Prince George's hobbies include the very age-appropriate video games, stickers, dinosaurs and pigeons. Phew. He is, after all, only 5 and in elementary school (at the posh Thomas's Battersea in London, as Town & Country explained.)
Prince William has also revealed, according to E! News, that Pince George has been known to become upset if, when watching TV with his parents, mom and dad don't show sufficient interest in the show. In an interview with BBC Radio 1 last year, Prince William said: "You have to pretend you're really interested in it... George gets very upset if you're not showing due diligence to the characters." (My sympathies, Kate and Will. I have trouble focusing on Paw Patrol when it's on. My eyes become rock-heavy, even though my daughter loves the program.)
As for mom Middleton, it's nice to see her putting her Art History degree from the University of St. Andrews in Scotland to good use, as the Observer newspaper noted. The duchess has become the royal patron of the famed museum's new photography center, the paper reported, a perfect match with her interests. What's more, since debuting her shooting skills publicly in 2015, with photos of little Princess Charlotte, according to INSIDER, Duchess Kate's camera work has been impressive enough to earn her an honorary membership in the Royal Photographic Society.
Snaps for Duchess Kate for her artistic talent, and I'll be listening for more clues regarding Prince George's adorably emerging personality. He's a cutie, that one.